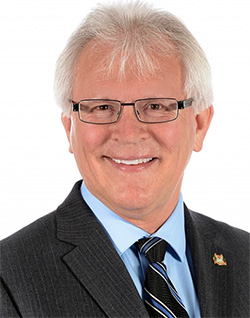 We have a lot to celebrate here in the Kootenay-Columbia. A wonderful climate, beautiful landscapes, abundant water, delicious local food, and vibrant, healthy communities. Over the past couple of months I've had the privilege of touring the riding and joining in community celebrations.
To celebrate Canada's 149th birthday I began my day in Canyon, where I attended the official grand opening of the new community kitchen, then I headed to Creston where I had the honor of recognizing 15 Creston Valley residents who received the Caring Canadian Volunteer Awards from the Governor General earlier in the year. I wrapped up Canada Day in Cranbrook at the beautiful Rotary Park.
MarketFest in Nelson, is famous for packing Baker St. with thousands of locals and visitors the last Friday of each month during the summer. A serious June rainstorm kept a lot of people at home while I was there, but l enjoyed connecting with the vendors and those who braved the weather.
The Elk Valley has amazing community spirit. Sparwood celebrated their 50th anniversary in style during Coal Miner Days, I had fun flipping burgers in support of Minor baseball and participating in the parade. In early July I also took part in the festivities at Wildcat Days in Elkford.
Cooking pancakes with the Girl Guides at Sam Steele Days in Cranbrook, watching bocce at Julyfest in Kimberley, honouring First Nations women at the Ktunaxa Annual General Assembly and promoting my National Local Food Day bill at the Salmo Farmers Market are just a few of the other activities that have been keeping me busy this summer.
Ottawa Is a beautiful city, but it doesn't compare to the mountains and lakes of Kootenay-Columbia. While Parliament is on break for the summer my priorities are to connect with nature and connect with constituents; in Revelstoke I combined the two by hosting my inaugural Hike with your MP event on the Soren Sorensen Trail in Mount Revelstoke National Park.
In addition to all the celebrating, I continue to meet with constituents throughout the riding to hear about your priorities for our federal government. The top issue that I am hearing is the need to fix our undemocratic voting system. During August I will be mailing a survey to every home in the riding to ask for your thoughts on how we can make every vote count. I will continue touring the riding to hear directly from you, on proportional representation, while celebrating the tremendous spirit and pride in our communities.
Hope your summer is going well!
MP Wayne Stetski
NDP — Kootenay Columbia
PO Box 872 Cranbrook BC V1C 4J6
Tel: 1-250-919-9104
E-mail: wayne.stetski@parl.gc.ca