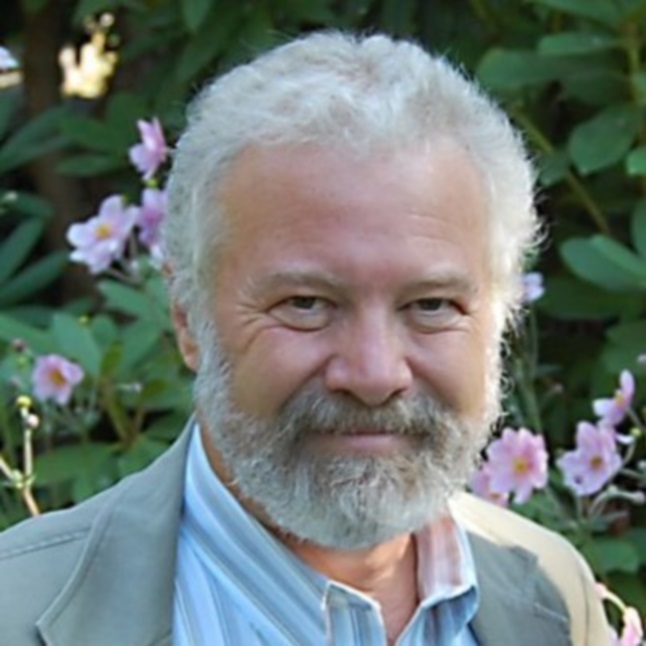 "My life is a journey in progress. I am fortunate or, if you believe in Chinese curses, unfortunate to live in interesting times."
David F. Rooney (Linked-In profile statement)
by Laura Stovel
Dear Current readers,
It is with a heavy heart that I am writing to say that David F. Rooney, owner, publisher, editor and journalist of the Current passed away peacefully on Friday, July 21 at his home in Revelstoke.
David grew up travelling the world with his family as his father worked for ALCAN. He went to school for a few years in Switzerland and lived in Colombia during his teenage years. He loved his years in Colombia and often spoke of them. He recently found the photo below of himself on horseback when he was 16.
David worked in the field of journalism since 1979. He worked for the Canadian Press and Ottawa Citizen in Ottawa, the Calgary Herald, the Edmonton Sun, and the Banff Crag & Canyon. He also wrote the textbook Reporting and Writing for Canadian Journalists and taught journalism and web design at the Centre for Communications Studies at Mount Royal College in Calgary from 1998 to 2000.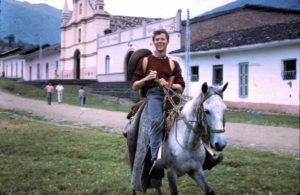 In the fall of 2001 David moved to Revelstoke to take up the position of editor of the Revelstoke Times Review. He very quickly became part of the fabric of Revelstoke – as a journalist, artist and active volunteer. He served on the board of the Revelstoke Visual Arts Society and later the Greenbelt Society. He volunteered with the Safe Spaces Society and supported the Revelstoke for Refugees effort to bring a Syrian family to Revelstoke among his many community efforts.
David left the Times Review to become the Revelstoke-based assistant of the Conservative MP in Ottawa, Jim Abbott and then went on to create his on-line newspaper, The Current, in July 2009.
Whatever David took on he gave his whole heart to – sometimes to his own detriment as he worked incredibly hard and did not always take time to rest. He gave generously to community initiatives. Despite the challenges of the newspaper business, he was always ready to give free or low-cost advertising to good causes such as fundraisers for refugee sponsorship and for victims of the Ebola virus in West Africa.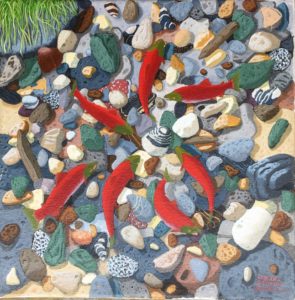 David was a gifted artist whose intricate acrylic paintings of rocks, rivers, mountains and night skies captured the majesty and mystery of the moment. My favorite of his paintings were the series he did of red fish spawning in which he captured in detail this powerful rite of autumn in Revelstoke.
He was also a great and generous patron of other local artists. His apartment was filled to the brim with the paintings and pottery of many of Revelstoke's finest artists.
Above all, David was a dear friend to me and to many people in Revelstoke, and he was a loving father, grandfather, son and brother to his family who he cared for deeply. He loved hanging out at Sangha Bean cafe and, later, Conversations Coffee House, where he would meet with friends and feel like part of a Revelstoke family – which he was.
For me, David was a dear friend, a mentor and a wonderful employer. He was always fair, always supported my ideas for articles, and was always up for an adventure.  I will miss him dearly.
David touched so many lives and those of us who knew him have stories to share about him and his contributions. I encourage you to write some of those stories on the Current Facebook page. We will collect them for his family. You can also e-mail me, Laura Stovel, at lstovel0@gmail.com.