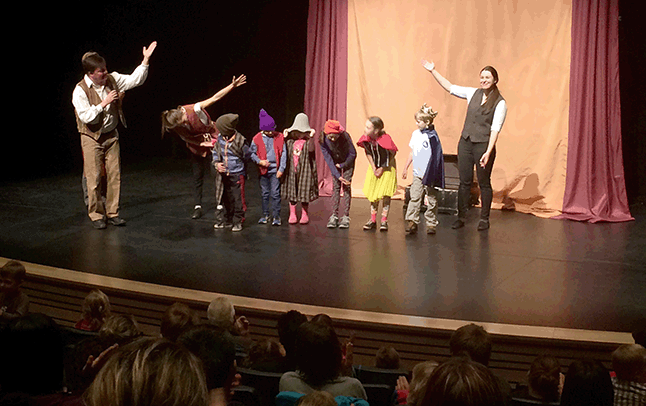 By Victoria Strange
The 'nearly world famous theatre troupe DuffleBag Theatre Company had the audience at the Revelstoke Performing Arts Centre cheering and laughing on Sunday afternoon. Based out of Toronto, DuffleBag Theatre performs over 600 shows a year across Canada, the US, and internationally. It has over fifteen different shows in its repertoire from classic fairy tales to Shakespeare adaptations.
I was excited to see the troupe's refreshing adaptation of Snow White. It began with the entire audience being instructed on how to participate. After much practice, it became second nature to respond to our prompts. It was good old fashioned fun, and if I ever hear the words: "the deep dark woods" again in my life, I am sure to swoop my hands forward and back and howl out a "whoooooo" sound. For someone like me, it was the perfect level of participation. I had the joyous feeling of being part of the play, but not really in the play. Some audience members however, did not get off so easy…
Almost immediately after the performance began, the young princess was plucked from the audience and brought upon stage. The narrator kept the newly found child star at ease, directed her through the role, and used humour when responding to her unexpected actions. In fact, it was this improvisation which made the play feel so alive. That feeling carried throughout the performance as more young audience members joined the stage, taking on roles of the seven dwarfs and the prince.
Pop culture references dropped in throughout the performance, bringing Snow White into our modern era, and at times the adults in the audience laughed harder than the children. By the end, the performance had taken on a life of its own and garnered a full and heartfelt round of applause for both the Dufflebag troupe and the young Revelstoke actors.
Please click here to visit the Arts Council website to see what's coming up at the Performing Arts Centre.