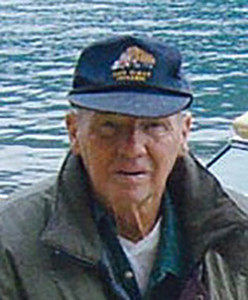 On, October 1, 2015, Doug left hauling his final load and reuniting with his wife of 50 years, Betty.
A memorial reception for the late Doug Mackey will be held in the Revelstoke Senior's Center on Wednesday afternoon, October 7, 2015, from 1-3 pm.
In lieu of flowers, memorial contributions may be made to the BC Interior Forestry Museum, Box 419, Revelstoke, B.C. V0E 2S0 or to The Good Samaritan Society, ATTN: Fund Development, 8861-75th Street, Edmonton, Alberta T6C 4G8, designated to Hillside Village, Salmon Arm, B.C., in memory of Doug.
Doug was born in Revelstoke, BC, on August 7, 1932, and spent his life in the logging industry mostly in Revelstoke and Nakusp. He will be remembered for stories of 'home' and his adventures behind the wheel. Doug enjoyed taking his many family members on camping, fishing and picnic trips where he was always meeting new people to share his stories with. He was always fixing or creating something to make life easier, even in his final months you could catch him "McGyvering."
Doug was predeceased by his loving wife, Betty in 2009. He is survived by his daughters: Carrie, Dawn and Heather (Daryl), grandchildren: Tyler (Aly), Meighan (Alex) and Cole; great grandchildren: Chanel and Rowan; brothers: Jim (Liz), John, Geoff (Kathie); sisters: Shirley (Greg), Grace Ellen (Don); sisters-in-law: Florence, Isabelle, Kathy (Ron) as well as numerous nieces and nephews.
Messages of condolence may be sent to the family by visiting Doug's obituary notice at www.brandonbowersfuneralhome.com
Cremation arrangements are in the care of Brandon Bowers Funeral Home, Revelstoke.
A special thanks to the staff at Hillside Village, Salmon Arm for the exceptional care during Doug's stay.