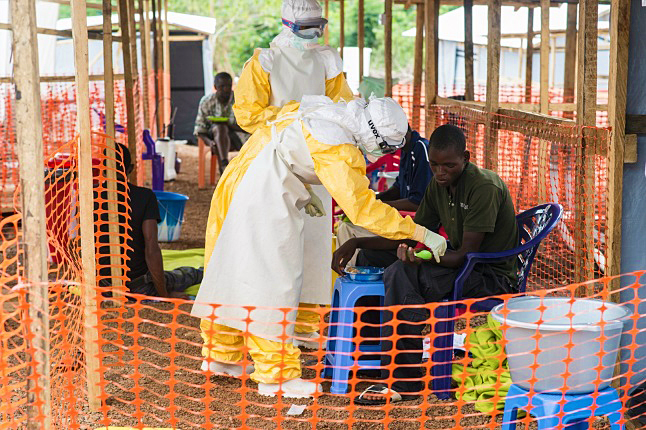 By David F. Rooney
The death-dealing ebola virus has dominated the news for months and it is increasingly clear that only a global response can stop this bug in its tracks. So why does public response in western countries seem so tepid?
Here in Revelstoke, at least, members of the public are being given a tangible opportunity to demonstrate their support for the beleaguered physicians and nurses of Médecins Sans Frontières on the medical front lines in Sierra Leone.
A group of Revelstokians with experience in Sierra Leone have, with the support of the Revelstoke Arts Council, organized a film screening and fundraiser for Médecins Sans Frontières  (Doctors without Borders) to be held at the Revelstoke Performing Arts Centre on Saturday, October 18, at 7:30 pm.
The film on offer is the documentary, Ebola War,  by David Belluz. This inspiring 45-minute film shows how a team of Ugandan doctors and nurses in the northern Ugandan town of Gulu courageously treated Ebola victims. They continued to work even though several medical workers died in the process. In so doing they were putting their families at risk and they faced ostracism in their community.
The film will be followed by a small panel/Q&A session with organizers Erin and Travis Wilkins and Laura Stovel who can talk about the Sierra Leonean context, and with medical professionals who have worked with MSF.
Entrance is by donation. Tax receipts can be given for donations of $10 or more.
I saw this film a few years ago and can unequivocally state that it is a tough-minded, powerful and moving testament to the good that people can achieve. If you have been following the news you know that most of the work in Liberia, Sierra Leone and elsewhere is being done by just a handful of doctors and nurses operating heroically on shoestring budgets. They deserve our help. The men, women and children they are trying to save desperately need whatever help we can give them.
I'd also like to suggest that if you are feeling somewhat numbed by the television coverage of this dreaded disease you should read The Observer's story, Ebola as seen through the eyes of a 13-year-old from Sierra Leone. Written by a very self-composed young girl named Bintu Sannoh, this frank piece of writing is quite moving.
Please read it and please, please, please come see the film on Saturday.