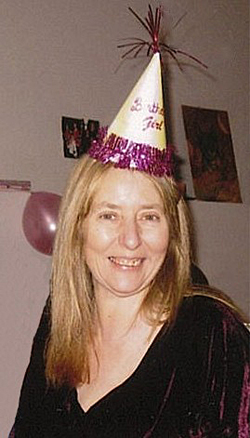 Danalee Marie Clark died suddenly at her residence in Revelstoke on Saturday, July 7, 2012 at the age 59 years.  A Memorial Service will be held at the Revelstoke United Church on Friday morning, July 13 at 11 am with Mr. Gary Sulz officiating.  In lieu of flowers, memorial contributions may be made to Community Connections Revelstoke Society, Box 2880, Revelstoke, B.C. V0E 2S0, in memory of Danalee.
Danalee was born in Revelstoke, B.C. on February 25, 1953, and had lived here for the majority of her life.  She was very fashion conscious and liked to look good and be told so by others.  Anyone who knew Danalee knew that her passion in life was talking.  Her mantra was "life's short, talk fast."  She was very generous with her friends and family.  Danalee very proudly worked through Community Connections at the Racquet Den, Queen Victoria Hospital and at the Lanzo-Garant Group Home.
Danalee was predeceased by her parents.  She is survived by four siblings:  Allan Clark of Vernon, Sheryl (Cliff) Wolgram of Revelstoke, Don (Marie) Clark of Revelstoke and Julie (Keith) Burgart of Revelstoke; several nieces and nephews, her good friend Roseline Lajeunesse, and friend and care-giver since 2000, Gail Short.
Messages of condolence may be sent to Danalee's family by visiting her obituary at www.brandonbowersfuneralhome.com.
Cremation arrangements are in the care of Brandon Bowers Funeral Home, Revelstoke.