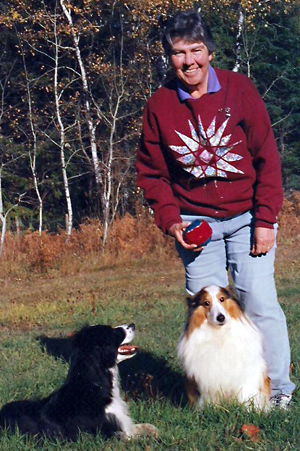 Ethel Geraldine (Gerry) Camozzi passed away at Mt. Cartier Court Extended Care, Revelstoke on Friday, June 8, 2012 at the age of 79 years.  A Memorial Reception will be held at the Revelstoke United Church Hall (lower level) on Saturday morning, June 23 at 11 am with family and friends presiding.  In memory of our mother's love for baking and sharing, please feel welcome to bring your favourite baking to share.
In lieu of flowers, memorial contributions may be made to the Revelstoke Humane Society, Box 340, Revelstoke, B.C. V0E 2S0, in memory of Gerry. Gerry was born in Notch Hill, B.C. on November 11, 1932 and had been a resident of Revelstoke since 1938.  She had the distinction of the being the first female taxi driver in Revelstoke and proudly drove for many years.  Gerry loved to golf, garden and hike.  She enjoyed the outdoors, especially picking huckleberries and mushrooms.  In the winter months she could be cross-country skiing. Gerry loved to walk her dogs, enjoying the scenery of her beloved Revelstoke.  She volunteered at Moberly Manor for many years.
Gerry was predeceased by her parents, Gerald Thomas (Joe) West and Ethel May West; her husbands: Edward (Ted) Nesbitt and Alexander A McLellan; three siblings: Aileen Sheedy, Thomas West and Jean West and her most recent husband Lorne Camozzi who predeceased her by one month.  She is survived by six children: Karen (Jack) Keddy of Nova Scotia, Jo-Ann McLellan (Andrew Smith) of Kelowna, Heather Norberg (Bob Bennett) of White Rock, Parker McLellan of Surrey, Sherry Rolfs of Vancouver Island and Lynda (Shell Scott) McLellan of Revelstoke; five step children: Kathy Camozzi, Jim (Paulette) Camozzi, Judy (Lawrence) Greenwood, Lorna Camozzi and Steven Camozzi; seven grandchildren: Kierra Smith, Emmet Smith, Blair (Shawna) Norberg, Nicole (Simon) Battistella, Shawna McLellan, Dillion McLellan and Jasper Scott; two great grandchildren, Sierra and McKenna, as well as nieces and nephews.
Messages of condolence may be sent to the family by visiting Gerry's obituary at www.brandonbowersfuneralhome.com.
Cremation arrangements are in the care of Brandon Bowers Funeral Home,  Revelstoke.