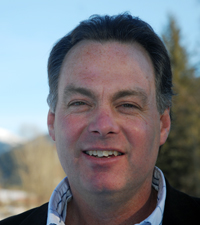 One of the biggest local stories since my last MLA report has to be the BC Liberal government's decision to give Jumbo Glacier Resort the green light.  This is just one more example of this government's determination to remove from local residents the ability to make decisions for ourselves.
One of the most telling aspects of the announcement by Minister of Forests Steve Thomson was where they decided to hold the press conference.  If this was a good news story, as the government likes to claim, they would have made the announcement a big media event in the community that will be most affected by the development.
But instead of a big announcement in Invermere, the government decided to hold this press conference in Victoria, 921 kms away.  In a move that illustrated more of a colonial attitude than a commitment to democracy, the BC Liberal government made a decision that completely ignored the stated will of local residents.
In the more than 20 years that have passed since the resort development in the Jumbo Valley was first proposed, local residents have used every tool provided to them to state their opposition.  They participated in the Environmental Assessment process, they wrote letters and they signed petitions.
In every instance, it was clear that the majority of residents oppose the resort development.  But that opposition has fallen on deaf ears.  With the announcement of the approval of the Master Development Agreement for Jumbo Glacier Resort this government has shown that it has no respect for local residents' rights to make decisions for themselves.
And this is the key reason that the approval of Jumbo Glacier Resort has raised hackles across the interior of British Columbia.  Whether or not people think that Jumbo Glacier Resort is a good idea, people in rural British Columbia absolutely reject the premise that a few people in Victoria can make better decisions about our land than we can.
If we allow the government to push through the development of Jumbo Glacier Resort against our will, we are not only allowing the giveaway of another one of British Columbia's wild places, we are setting the standard for democracy in this province.  British Columbians need to continue to say no; not just to this misguided decision but to the erosion of our democracy.
Norm Macdonald is the MLA
 for Columbia River – Revelstoke and  Opposition Critic for Forests, Lands and Natural Resource Operation. He can be reached at 250-344-4816 | 1-866-870-4188 |104, 806 9th Street N | Box 2052 Golden BC V0A 1H0 | www.NormMacdonald.ca