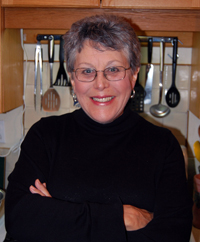 Almost-Thai-Curry with Beef, Pork, Chicken, Fish or Tofu or Nothing but Veggies
Lemon Basil Rice
Butternut Squash Suns and Moons
Raspberrry Fool
This is the second in a series of Holiday at Home meals that either require no cooking at all (next week: Three Salads) or can be made ahead of time and kept in the fridge or freezer. Make the curry and the raspberry fool ahead of time. All you have to do is heat the curry, bake the squash (which can be cut up ahead of time)  and make the rice—a cinch in one of those new plastic rice cookers that you can nuke for 12 minutes and bingo, rice.
When you are buying curry paste, look for the sign on the package that tells how hot it is. Those tiny red chilis available here as Thai hot peppers are very hot. So are some varieties of packaged dried chilis from Mexico. You can use these if you want to add heat to your dish, but do so with caution. When spice-heat overpowers the other flavours in the dish, it's overkill. If you are feeding a family whose tastes differ, offer hot sauce on the table for those who want fire in the belly.
To cook Thai food, you need to get a few things. I use Thai Kitchen products because they are available and reliable, but other brands will work just as well. Fish sauce smells horrible but amazingly is the secret to somewhat authentic-tasting Thai food. Use it in conjunction with other ingredients and it will work its magic. If you can find lemon grass—it sometimes can be found in the fresh packaged herb section—chop it as finely as possible or else it feels like you are chomping on wood mulch. Or leave it whole and remove it at the end, before serving. Lime leaves, or Kaffir leaves, are seldom available here, so use fresh basil instead. Thai food relies on freshness, but curries actually seem to benefit from a one-night stand in the fridge—the flavours meld and deepen. I call this Almost-Thai-Curry because it's so difficult to get galangal, kaffir leaves, or lemon grass, which are essential to real Thai cooking. The curry seems to have a lot of ingredients but once you get them together it's easy to make.
A bowl of simple fresh green peas, from frozen, cooked lightly with a lettuce leaf and a lemon peel, goes well with this curry if you want green on the table.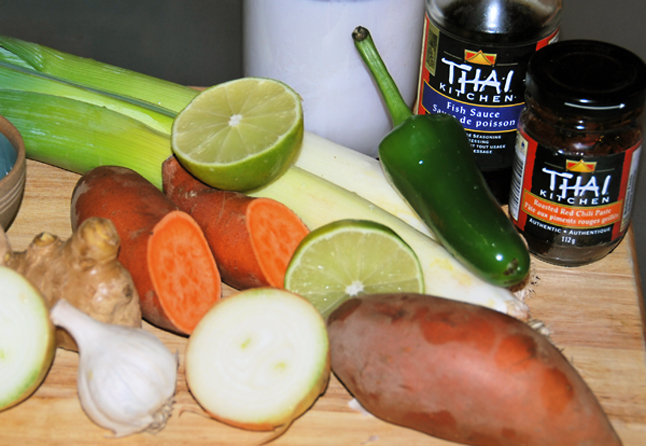 Almost Thai Curry
2 cups of diced chicken, pork, beef, boneless fish, seafood, solid tofu, OR cauliflower
2 tsp vegetable oil
2 leeks
1 onion
1 yam
1 jalapeño pepper
1 tbsp fresh grated ginger
2 cloves of garlic, minced
juice of 1 large or 2 small limes
1 tbsp fish sauce
1 small jar (about 5 tbsp) MILD  Thai curry paste
1 tsp sugar
1 can coconut milk
1 ½ cups chicken stock (or beef stock if using beef)
Steps:
Prep the veggies. Chop the leek into ½ inch pieces and soak in a bowl of cold water to remove sand, then drain well. Peel and dice the onion, yam, and cauliflower if you are using it. Grate the ginger, mince the green part of the jalapeño pepper and the garlic.
Heat the oil in a large thick-bottomed pot and when it begins to sizzle a little, add the veggies and stir fry for about 5 minutes. Add the curry paste and cook another 5 minutes, stirring all the time.
Add the meat or chicken or fish and continue to stir fry for another 5 minutes.
Mix the coconut milk with fish sauce and the sugar. Stir into the pot.
Add the chicken or beef stock. Mix well.
Cook for another 30 minutes over very low heat, so that the curry simmers.
Serve with rice.
In the absence of a banana leaf, use a large lettuce leaf to serve the rice and curry on. Wash the leaves well, dry them with a paper towel , and arrange prettily on the place.
Lemon Basil Rice
Cook rice according to the directions on either the rice package or your rice cooker .
In a small pot or frying pan, melt ¼ cup butter or heat ¼ cup olive oil.
Add to this the juice and zest of ½ a lemon and an entire handful of fresh basil leaves, rolled and thinly sliced into chiffonade. This means you roll the leaves together in a bunch, then slice very thinly through all the layers. Think of how they prepare tobacco for cigars, if that isn't too disgusting a thought.  When the rice is done, add the butter/lemon/basil mix to it and mix well.
Roasted Squash Suns and Moons
When you cut up a butternut squash, the slices are either nice rounds or more awkward half bits that come from the bulbous end after you remove the seeds. Make these pieces into crescents, and then  you will have rounds (suns) and crescents (moons.)
1 small long-necked butternut squash
2 tbsp olive oil
juice of ½ lime
salt and pepper
Peel the squash and cut into rounds and crescents.  Toss with oil and lime juice. If keeping to cook another day, reassemble into squash shape, more or less, and wrap tightly in plastic wrap. Otherwise, put onto a lightly oiled baking sheet, one slice at a time, sprinkle lightly with salt and pepper, and roast in a hot (400F) oven for 40-50 minutes or until tender. The age of the squash will determine cook time, so set timer for 30 and test every ten minutes until each piece is tender. (I once bought one in eastern Canada that had clearly been somewhere other than Herman's root cellar for a very long time—it was edible only after boiling it for a whole hour.)
Raspberry Fool
½ litre whipping cream
2 cups frozen raspberries, thawed
½ cup sugar
Use an electric beater to whip ½ litre of cream until stiff. Add sugar and keep beating until sugar is incorporated.
Put a large spoonful of raspberries in the bottom of a glass. Add a large spoonful of cream. Alternate this process four times or until glass is as full as you want it. Refrigerate until serving time.
Top the dish with a fresh blackberry or a shaving of semi-sweet chocolate, or a wafer, or a piece of candied ginger or nothing at all.