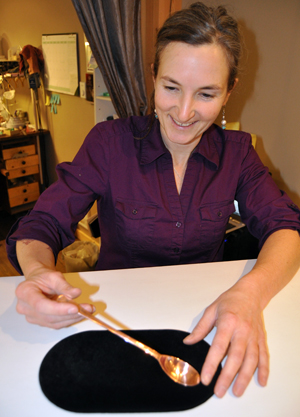 By David F. Rooney
English silversmith Adam West is enjoying a different kind of winter vacation teaching interested men and women how to create useful — and elegant —  objects from copper and, by extension, silver and other metals.
The young man from Sheffield came here a few months ago and in mid-December began offering weekend courses in basic metal working using copper.
While copper is not a precious metal it is a nearly ideal metal to use when you're first learning how to produce attractive objects or jewellery.
West will be offering other weekend-long courses on making bowls, bangles and jewellery beginning in March.
You can reach him at 250-837-1787 or via e-mail at andy_west214@hotmail.com.
Scroll down the page to see some of Andy's students in action: