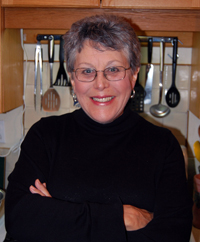 • Chunky Veggie Soup
• Winter Minestrone
• Bloody Mary Borscht
What ARE your cockles, anyway? Not sure, but here are three soups from one base to keep you toasty as you trek around on Revelstoke's icy road surfaces and sidewalks.
Soup is an inexpensive and elegant way to create a one-dish dinner, particularly when teamed with a loaf of good bread, a little cheese or pickle, and maybe a scrumptious dessert for anyone who's feeling that soup is meager fare.
These soups stem from one base, which is the Chunky Veggie Soup. It's easy to make this, divide it in half, and make one of the others. To make the Winter Minestrone, first make the chunky veggie soup, then add tomatoes, pasta, beans, lentils, cabbage, radicchio or kale, and a cup of red wine. For Bloody Mary Borscht, start with the veggie soup and add beetroot, tomatoes and vodka.
Soups consist of 3 things: the broth; the feature items; and seasonings. It is always best to use homemade broth if possible, as it will be more flavourful and fresher than store-bought. However, broth from cubes or powder, and tetra-pacs broths, are acceptable substitutes. Watch out for salt content in ready-mades — you may want to taste before adding salt to your pot.
If you make the veggie soup and then one of the others, you will end up with four large Mason jars full of soup — enough to serve 8 people as a main dish soup, or 12 as a starter.
Chunky Veggie Soup
A light, flavourful and simple soup that's the base for the others.
This soup uses chicken broth and ham or bacon; if you are vegetarian, omit these and use a tbsp of Bragg's Liquid Aminos instead.
You can add other veggies to this soup, but the plainness of the onion/potato/carrot mixture is part of the charm, so I would avoid strong tasting veggies such as broccoli, cabbage, turnip or parsnip. If you are cooking for a very small child, make the soup then liquefy in a blender and strain.
You can turn this into Chicken Veggie soup by adding 1-2 cups cooked diced chicken.
Quantities make enough soup to divide in half and use part as a base for another soup.
2 tbsp olive oil
100 gm ham, bacon or pancetta
2 sticks celery
3 carrots
1-2 large onions, finely diced
2 large cloves garlic, finely minced
3+ cups of broth or water: use chicken broth for a pale soup and beef for a deeper colour and meatier flavour.
1 lb potatoes
½ cup orange juice
1 tsp coarse salt
½ tsp freshly ground black pepper
¼ cup parsley, very finely chopped
1 tsp balsamic vinegar — Maletti if possible
2 sprigs of thyme, leaves only
½ tsp red pepper flakes
Dice into 1 cm cubes the ham, onion, celery and 1 carrot. Mince the garlic. Put into a large heavy-bottomed pot with 2 tbsp olive oil and turn the heat to medium. Add the orange juice. This is a soffritto, the basis of many soups and casseroles. Frying these basics together causes the flavours to blend and will result in a rich-tasting but mild soup.
Add 3 cups of broth and bring to a boil.
Cut the remaining two carrots and the potatoes into large chunks, about 2 cm square, and add to the broth. Add the balsamic vinegar, salt, pepper, pepper flakes, parsley and thyme.
Simmer for about 30 minutes, or until the potatoes and carrots are soft.
Serve topped with a tsp of pesto (La Baguette.)
Winter Minestrone
A dark, richly satisfying soup with multi-layered flavours and textures
Jamie Oliver seems to have several new cookbooks each season, and I was lucky enough to get his Italy book for Christmas. Oliver talks about minestrone as any number of different soups, depending on the season and the store cupboard. This suited me well, as after Christmas guests leave I always seem to have bits and pieces in the fridge. The lentils and the radicchio in the recipe below are my post-guest additions. You can create your own — in fact, the radicchio is more usually either cabbage or kale, and the black Puy lentils, although they add depth of colour and a very meaty flavour, can be omitted.
The choice of veggies will determine the final colour of the soup. Raddicchio makes it darker, as do lentils. If you prefer a paler soup, use green or white cabbage and red lentils. NOTE: This soup is best eaten the same day it's made, so if you want to do the prep ahead of time, make the veggie soup, then an hour before serving time add the other ingredients. I've used tinned beans and tomatoes to keep things easy.
The base: make the vegetable soup above. Then add:
1 large tin diced tomatoes, with juice
¼-½ cup black Puy lentils, pre-soaked for 1 hour
1 cup sliced and chopped radicchio, cabbage or kale
2 cups cooked, rinsed and drained pasta: I used WF spirals cooked for 11 minutes.
1 tin white cannellini or kidney beans, drained and rinsed until water runs clear without foam
1 tsp sugar
1 cup red wine
1 tsp dried oregano
more broth or water as needed to keep vegetables covered with liquid
Serve with parmesan petals (shaved off the parmesan block with a peeler.)
Bloody Mary Borscht
Borscht has never been a favourite in our house, but this has made us reconsider. An overstock of beets in the fridge drawer was the inspiration, and the vodka occurred as I mixed the tomatoes into the soup.
This borscht does not include cabbage, a variation on the norm which to my mind improves it. The vodka is inspirational — it undercuts the sweetness of the beetroot and adds an interesting bitterside taste all of its own, even if you cook it for 20 minutes and boil off the alcohol. (Research shows that all but about 5% of the alcohol in dishes created with booze will disappear in the cooking.)
Make the Chunky Veggie Soup above. Put half into another pot or into storage jars, and to the remaining half add the following:
1 small tin diced tomatoes, or a half a large one
3 beets, peeled and cut into either slices or chunks
1-2 cups broth, enough to ensure veggies are covered
Simmer the soup for 30-40 minutes, until beetroot is thoroughly cooked
Add 1 cup vodka and simmer for 5-10 minutes
Serve with a dollop of sour cream or thick yogurt, and a chopping of finely minced fresh dill.  Or try swirl of balsamic vinegar or—use Crescendo's Fig Chili Balsam for a double kick!
Beverage choices:
Chunky Veggie Soup will pair well with a light white wine, even a Reisling, or a light ale, but it's also great with a glass of cold milk. The Winter Minestrone begs for a dark or an amber ale or a glass of good red wine, a Shiraz or a Cabernet; and for the Bloody Mary Borscht — what other than a vodka tonic on ice for those who imbibe, and a Virgin Caesar for those who don't.