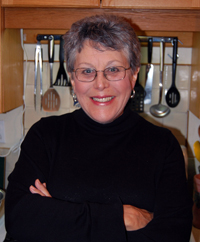 Raving about rhubarb isn't hard to do when it grows wild in your back lane. Honest. Well, maybe Jamie put it there, sometime in the past few years but there it was, with elephant-like leaves and stalks as thick as a hoe handle. We quickly picked some… free food!
Rhubarb grows around the world, having originated probably in China, where medicinal rhubarb is still used as a purgative. Varieties differ, and the type we have in Western Canada was probably brought from Europe in the period of settlement and colonization. Rhubarb grew in my parents' garden, my grandmothers' gardens, and my aunties'. It was a free food, thriving so abundantly that it was hardly considered a treat by the end of July, as so many pies, jams, puddings, roly-polies, crumbles and dowdies had by then been devoured.
Rhubarb is not native to North America, but it certainly flourishes here. One of the first crops, after asparagus, to be enjoyed in June, if you leave it unpicked for too long the stalks become woody and inedible. The leaves can be poisonous with oxalic acid so be sure to discard them before leaving the garden.
Online at The Rhubarb Compendium (www.rhubardinfo.com) you can find recipes for everything rhubarb from ice
cream to pickles and soup. I love rhubarb, not enough to serve it with chicken. Also, I'm fairly allergic to it, but it's such a treat I usually cave and make some crumble.
Rhubarb's gum-puckering tartness does need some sugar or honey to make it palatable.  Other fruits combine well with it in pies, crumbles, cobblers, jam, or dishes of stewed fruit. Try apples, strawberries, blueberries and oranges for flavour hits that turn a plain supper of say soup and toast into a minor feast. My English mother-in-law used to serve it as one of three or four desserts — rhubarb pie, custard, ice-cream and jelly — and most of us piled all four onto the dessert plate. Ah sweet bird of youth!
Use rhubarb alone, or add any amount of other fruit: apple, berries, peaches, plums. Depending on the tartness of the other fruit, adjust the sugar. This is tricky, as you want a tart outcome, but smooth and with not a touch of the cough syrup taste that can invade your dish if the rhubarb is served without sweetener.
Ruby Crumble
My grandmother's name was Ruby, and certainly I first ate rhubarb in her little pink and white kitchen. She was a good cook with a liking for orange as flavouring, which is odd as I don't recall her ever actually eating an orange. I have used mandarins because a) that's what I had in the fruit bowl and b) they are a little sweeter than oranges and offset the tart rhubarb just that little bit  more.
This recipe uses margarine — my preference is for Becel — but if you are a died-in-the-churn butter fan, substitute.
Preheat the oven to 350° F
Mix together in a big bowl the following:
4 cups rhubarb stalks, washed and ends cut off, then sliced into ½ inch pieces
other fruit to taste, or none
¾ cup sugar
juice and zest of two mandarins
1 ½ tbsp cornstarch
Butter lightly a 9 X 12 rectangular or oval baking dish, preferably ceramic or glass, and spread the fruit into the dish. Or use two pie plates.
Make the topping:
Put into a food processor and pulse until blended:
1 cup flour
1 cup sugar
¾ cup Becel margarine
½ cup quick oatmeal
½ tsp salt
Empty the mixture into a bowl and add 1 cup more oat flakes. Stir well.
Crumble the mixture over the top of the fruit, and bake for one hour or until the fruit is bubbling around the edges, the crumble is browning on top, and your kitchen smells like heaven.
Stewed rhubarb and apple
Clean and slice a handful of rhubarb stalks into one inch pieces. Peel and quarter as many apples as you happen to have on hand. Put these into a medium pot and barely cover with water. All the fruit will collapse when cooked into less than a quarter of its original volume, so use as little water as possible. Bring to a boil; add ½ cup sugar for each 2 cups of fruit, and a little lemon juice if you have this on hand. A teaspoon of vanilla is nice too, or a brief shake of cinnamon. Cook until fruit is soft and the texture is still fruity, e.g. not total mush. Most of the water will evaporate. Serve over ice cream or gingerbread or both.
Gingerbread
Here is Ruby's recipe for what we called Nana's Rich Dark Heavy Cake. As a ten-year-old, I once made myself quite sick by overindulging on this — it was so delicious I kept sneaking little slices all evening long, and woke up in great surprise at 3 am. It's the only time in my life my otherwise cast-iron digestive system let me down.  The cake really is quite good. Slice as a loaf, and serve with the stewed rhubarb above, and vanilla ice cream.
Sift together:
2 cups all purpose flour
¼ tsp salt
1tsp ground ginger
1 tsp ground cinnamon
In a separate bowl, cream together
1 cup sugar
½ cup shortening, margarine or butter
¾ cup molasses
Mix together 1 cup hot water and 1 tsp baking soda.
Add the flour and spices to the sugar and butter alternately with the hot water and soda mixture, a little at a time, until all ingredients are well mixed and smooth.
Turn into a greased and papered loaf pan 8" x 5" x 3". Bake at 300F for 1 hour. Cool and turn out of pan. Wrap loosely in waxed paper when cool, and slice as needed.
An addition to this would be walnuts, cranberries or raisins.
To paper the pan, first grease it well with a little margarine, butter or oil on your fingers. Cut a piece of parchment paper the size of the loaf bottom, and lay it down. Grease the paper, and dust very lightly with flour.