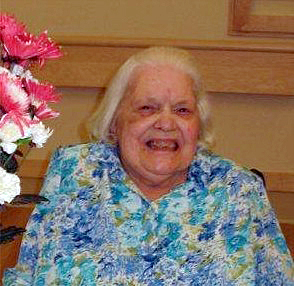 Eunice Marjorie Chamberlain passed away at Mt. Cartier Court Extended Care, Revelstoke on Saturday, May 28 at the age of 90 years.  A Graveside Service will be held at Valley View Memorial Gardens in Surrey on Saturday afternoon, June 4, where Eunice will be interred beside her husband, Chuck.  A Memorial Tea will be held at the Knights of Pythias Hall in Revelstoke on Tuesday afternoon, June 7 from 2:00 to 4:00 p.m.  In lieu of flowers, memorial contributions may be made to the Canadian Diabetes Association, 360 – 1385 8th Avenue West, Vancouver, B.C. V6H 3V9, in memory of Eunice.
Eunice was born in Bellingham, Washington, on July 21, 1920, and had been a resident of Revelstoke since 1983.  She moved with her family in 1948, living in Vancouver, Langley, Burns Lake and Kenora, Ontario, before coming to Revelstoke.  Eunice enjoyed bowling, knitting, doing crosswords, mending socks, watching curling and Jeopardy as well as being an avid people-watcher.
Eunice was predeceased by her husband Chuck in 1995, son Robert in 1962 and three siblings: Jim, Audrey and Doug.  She is survived by her daughter Carol Tinnion of Chilliwack; four sons: Brent (Debbie) of Chase, Gregg (Anne) of Plantagenet, Ontario, Drew (Cheryl) of Revelstoke and Todd (Dawn) of Merritt; grandchildren: Sean (Lisa) Tinnion, Colleen (Allan) Cyr, Guy Tinnion, Gary Chamberlain, Lisa Chamberlain, Kristen Chamberlain and Lindsey Chamberlain; five great grandchildren: Zachary, Patrick, Brandon, Rebecca and Christina.
Messages of condolence may be sent to the family by visiting www.brandonbowersfuneralhome.com.
Cremation arrangements are in the care of Brandon Bowers Funeral Home, Revelstoke.