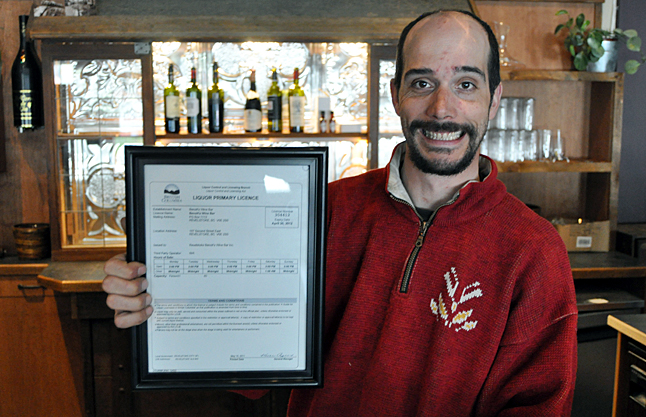 By David F. Rooney
He's legal! Benoit Doucet has a brand-new liquor licence and a day picked for the public grand opening of his long-awaited wine bar: Saturday, May 21, at 3 pm.
"I am really looking forward to this," he said Wednesday. "It has been a long time coming and will, I think, be welcomed by all the people who supported me."
This will be a straightforward opening — "there won't be anything special," Benoit said, adding that he will give invited guests from the business community and City Council a sneak peek from 6 pm until 11 pm on May 19.
"We'll have 11 kinds of red wine, 8 whites, one rose, sparkling wine by the glass and some fine scotches — simple but efficient products."
Cheese and meat platters will be served at the opening and the food service will be simple when the bar begins its daily operations. Benoit's Wine Bar will be opened from 3 pm until midnight Sunday to Friday and 3 pm until 1 am on Saturdays.