By Karen McColl
If you aren't already registered with a workplace team it's time to get on the bandwagon because this great event is only 10 days away!  Bike to Work week (BTWW) runs Monday May 31 to Sunday June 6.
Last year's event was a huge success with over 50 workplaces participating and 157 new commuters biking to work for the first time. A total of 5,091 kilometres were cycled by almost 500 Revelstoke commuters, off-setting an estimated 1.41 tons of carbon dioxide!
There are many great activities going on this year. The commuter challenge participants are geared up and ready to go for Saturday May 29. Five pairs of cyclists and vehicle drivers will start from five locations around Revelstoke and race to Grizzly Plaza (following all rules of the road). People may be surprised at how close the results could be.
The IBike testimonials contest closes Friday May 28.  Tell the BTWW committee why you love biking or share your favourite bicycle memory or story for a chance to win a $75 gift certificate to Valhalla Pure in Revelstoke.  Submit your 100 word entry to sgrieve@cityofrevelstoke.com. The prize giveaway will take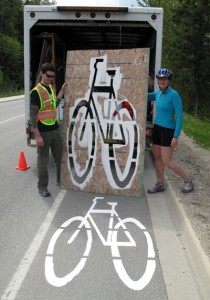 place Saturday May 29 at Grizzly Plaza, following the commuter challenge.
Bike to work week kicks off with two Celebrations stations taking place Monday May 31 at Grizzly Plaza and Queen Victoria Hospital between 6:45 and 9am.  Commuters are invited to stop by for morning goodies, bike mechanical support and a chance to win prizes!  A second celebration station will be held at the same time Thursday June 3 at Grizzly Plaza only.
If you are not already part of a workplace team, become a team leader by registering online at www.biketowork.ca/revelstoke.  It's easy and fun and there are tons of great prizes this year. You are only eligible for prizes if you are registered…
Bike to Work Week 2010 is not to be missed!
Events:
Commuter Challenge: Saturday May 29, 10am at Grizzly Plaza.
Ibike testimonials contest: email stories (max 100 words) to sgrieve@cityofrevelstoke.com.  Deadline:  Friday May 28. Winners will be announced Saturday May 29 after the Commuter Challenge.
Celebrations Stations: Monday May 31 (QV Hospital and Grizzly Plaza) and Thursday June 3 (Grizzly Plaza only); 6:45am – 9am.
Registration for Team Leaders:
facebook:
Revelstoke Bike to Work Week 2010
Information:
Suzanne Grieve, Bike to Work Coordinator: 250-837-9351
Karen McColl, Media Liaison: 250-837-2801
Brendan MacIntosh:  BTWW committee member and Flowt owner:  250-837-4044.