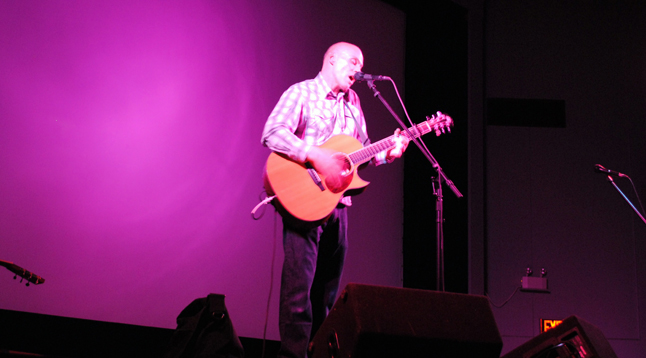 By Karen McColl
In a musical performance that had audience members tapping their feet, hooting and hollering and throwing their heads back in laughter, John Mann offered the perfect finale to the 2009 / 2010 concert series put on by the Revelstoke Arts Council.
Mann, of the Vancouver-grown band, Spirit of the West, just released his second solo album, December Looms.  He is currently on a solo tour through central British Columbia which continues with three more stops after Revelstoke.
Mann's stage set-up is simple with two acoustic guitars, one harmonica and some speakers. His music, described as having alternative folk roots, is endearingly honest and openly reflective of his personal life and his family whom he is obviously very close with. His songs tell stories of love, life, travel, his views of the world and even his recent battle with cancer.
Mann set the scene for many of his songs by sharing hilarious anecdotes on nearly every subject imaginable. He even played a song written about a gig he did with Spirit of the West at a bar in Red Deer, Alberta, called Cowboys.
"Is anyone here from Red Deer?" He asked the crowd.  Greeted with silence, he responded: "Good."  He went on to sing about the lingerie-clad servers and peanuts on the bar and in his lyrics he promises that he wouldn't go back there… unless he was asked.
Witnessing Mann's comfort and ease on stage, it comes as no surprise to learn of his ongoing film and theatre career.  He recently finished up a successful theatre production in Calgary called Beyond Eden and was in the CBC Television series Intelligence which ran for two seasons.
Mann admitted to the audience that he is usually type-cast for the role of the villain. He shared the following story about what a film director once said to him.
"For all I know you might be the nicest guy in the world, but I think you are the evilest-looking (expletive) I have ever seen."
If this director had interacted with Mann for even just a few moments, he might have changed his mind (about the evil part). Mann gave a heart-
warmingly intimate and interactive performance that was a hit with both children and adults alike. He is as much a performer as he is a musician and the audience was kept in stitches most of the night.
At the end of his performance Mann happily signed CDs and seemed perfectly at ease chatting with audience members-come-fans.
Concert-goers have Carol Palladino and other volunteers from the Revelstoke Arts council to thank for this performance.  Palladino knew Mann would be a hit in Revelstoke after the first time she heard his music:
"We just about fell out of our chairs he was so fabulous."
And fabulous he was.
Look for the 2010/2011 Revelstoke Arts Council concert series listing to be announced in the next month or so. Their nightly Street Fest at Grizzly Plaza will start up at the end of June.