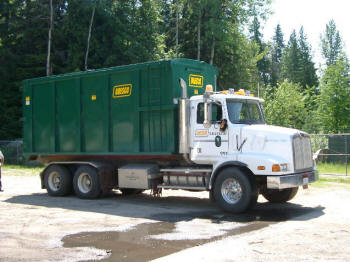 REVELSTOKE, British Columbia – May 1, 2018 – Waste Management of Canada announced today it is acquiring Bresco Industries Ltd. from owners Brett and Scott Renaud, effective May 1, 2018.
"This is an exciting opportunity for our customers in the Revelstoke area and a well-timed transition for our family business," said Brett Renaud of Bresco Industries.
"We chose Waste Management because we value the company's recycling leadership and commitment to customer service," said Scott Renaud. "We are confident Waste Management will provide reliable and high-quality service to meet our customers' needs today and in the future."
Bresco Industries began providing environmental services in the Revelstoke area in 1993. Over time, the company expanded services to include recycling and garbage collection for residential, commercial and industrial customers as well as hauling water, equipment and snow.
"Waste Management provides a full spectrum of recycling and environmental services across BC," said Tanya Stewart, area sales director for Waste Management-Pacific Northwest and BC. "For the Revelstoke region, we bring expertise and resources to help communities and local businesses succeed and grow.
"No changes to service schedules are planned at this time," Stewart said. "We will continue to operate as Bresco Industries Ltd. for several months, and we expect a smooth transition."
About Waste Management of Canada
Waste Management of Canada provides innovative sustainability solutions for 4.5 million residential and 170,000 industrial and commercial customers across nine provinces. Now in our third decade of service in BC, we bring expert consultation and a customer focus to serve the public sector as well as the construction and demolition industry, property managers, manufacturers and businesses of all sizes.
In the public sector, Waste Management's partners include Recycle BC (City of Vancouver Multifamily), Vancouver School Board, Vancouver Coastal Health, City of Abbotsford, City of Pitt Meadows, City of New Westminster, Victoria Greater School District, City of Castlegar, Regional District of Central Kootenay and Regional District of East Kootenay and Interior BC Health Authority. We also offer residential subscription-based services in the Lower Mainland, Vancouver Island and Interior BC.
Waste Management of Canada owns and operates 20 recycling facilities and 18 landfills, with 3,400 employees at 116 operating locations. For more information, go towmcanada.com.