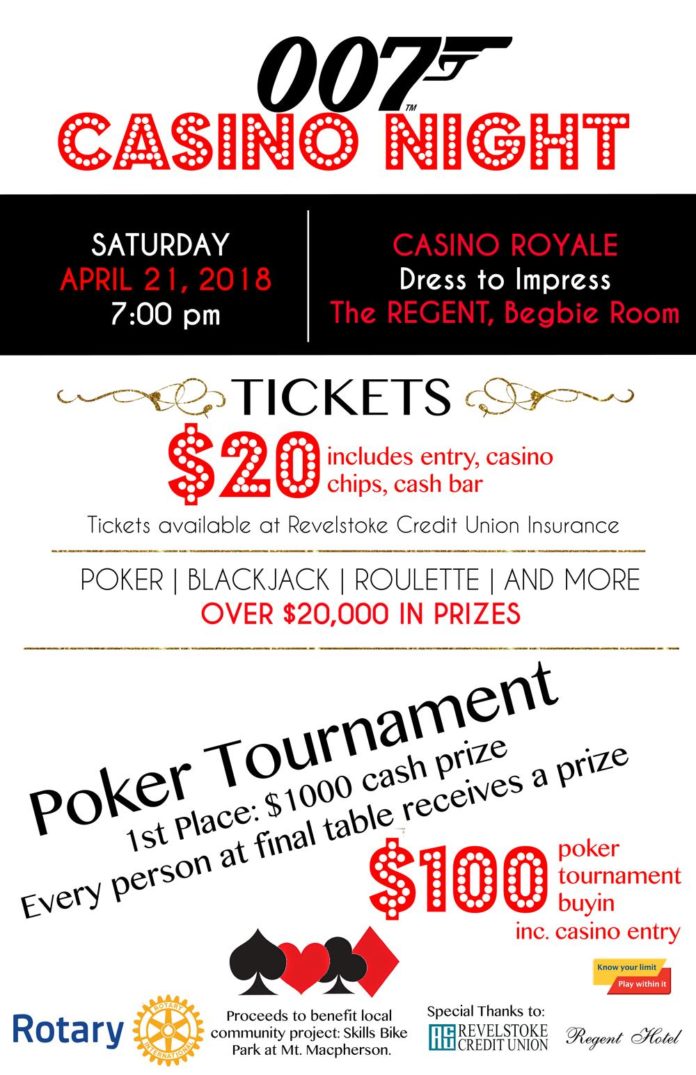 The Revelstoke Rotary Club has been putting on a casino night for several years now as an effort to fund-raise in order to help the community in many different aspects. They were a huge part of why Williamson Lake has a dock to toss your little brother off of as well as maintaining the local lake until it was passed to the City.
If you wander down to the ball diamonds or wander through the Railway Museum courtyard you will see the Rotary wheel. For decades this club has been giving back to help community initiatives, from the hey day of Sam Olynyk to our current president Maggie Spizzirri, the club will continue to give back in a big way.
The 007 James Bond style Casino Royale evening will be this Saturday, April 21st. The event this year will be at the Regent Hotel in the Begbie Room.
Tickets are $20 and that will cover your entrance fee and some chips.  For those that want to take a crack at the $1000 cash prize in the Poker Tournament, the entrance fee is $100.
(PS- Ask John Kehler about playing poker in Vegas with James Woods. True story.)
Tickets are available at RCU, RCU-I or any Rotarian should have tickets on them.