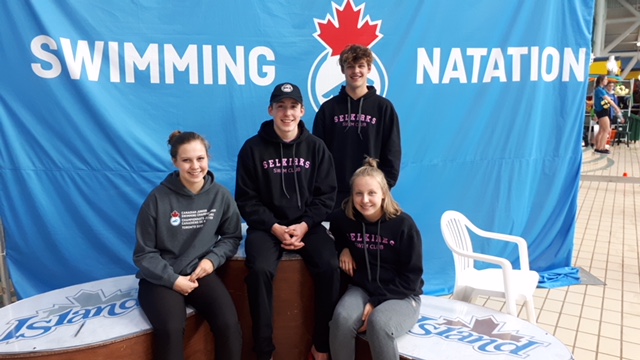 The Western Canadian Swimming Championships were held at the Commonwealth Games Aquatic Centre in Victoria April 12-15.  Over 60 clubs and over 500 swimmers from Manitoba, Saskatchewan, Alberta and B.C. competed in the four day meet.  The 500 + swimmers included locals Hunter Stewardson, 14, and James LeBuke, 16.  This was the first time either swimmer attended Westerns. To attend you need to make qualifying times and just a year ago they were attending their first winter swim meet having just joined the Salmon Arm winter swim team ( the Columbia Shuswap Selkirk Swim Club) from the Revelstoke Aquaducks Summer Swim Club.
The pair travel to Salmon Arm five times a week to train as well as joining the Revelstoke Aquaducks in their winter maintenance training two mornings a week.
James started the meet with the 200 free dropping almost 3 seconds off his best time and breaking the clubs senior record. In finals he dropped 2 more seconds to win a silver medal in 1:56.94 to reset the record that at seasons start was 2:05.00.  James broke the club record in the 200 breaststroke by almost 5 seconds winning a bronze in the final with 2:24.   James entered his third event with a goal time of 53 seconds for the 100m freestyle. He swam 52 seconds in prelims and finals to receive a bronze medal.  His time places him 2nd in Canada for 16 year old rankings.  
In the 400 IM, one of the harder races in swimming and his third time swimming it, he dropped 9 sec for a time of 4:40 and placed 5th in the final.
In his final event, the 50m freestyle, James swam one of the best times ever swim by a 16 year old boy in Canada. He swam 23.88 seconds in the morning and in the final he received silver with a time of 23.68 seconds, ranking him one of the top 16 yr olds in Canada at the moment. This time qualifies him for the Pan Pacific Trials in Edmonton in July. In his 200 IM he swam a prelim time of 2:09 breaking the club record by 3 seconds.
Hunter Stewardson, 14, qualified for three events and was determined to make them count each day was a challenge, swimming against the top three ranked girls in Canada. Hunter just thought about her own race and stayed focused with following her plan, and it paid off. She made finals in all three events. On the last day of the races she stepped up to the next level, making a Senior final ( open to all ages) and becoming only the third girl in the clubs history to qualify for the Pan Pacific Trials in Edmonton in July.  These time standards are also used for Olympic trials and world trial meets. Hunter is now ranked the 2nd fastest 14 yr old 50 m breaststroke swimmer in Canada.
Hunter and James helped their team to be ranked 11th, with their 5 member contingent, out of the over 60 teams present.  James was chosen from this meet to represent B.C. at the US Pro Swim Series in Indianapolis, Indiana in May.  
Both James and Hunter began their swimming with the Revelstoke Aquaducks Summer Swim Club and continue to train with them. Both swimmers will be heading back to Victoria for Provincials in July and to the Canadian Junior Championships also in July held in Winnipeg.