One of Canada's most popular TV series in the past 20 years was Corner Gas with Actor Brent Butt. The show wrapped up its final season in 2009 and since then a full feature film was shot and the appetite for more Corner Gas still floats through Canada.
Actor Brent Butt chatted with The Revelstoke Current about this new twist on a great Canadian comedy series.  After a successful six season run, the show then ventured onto the big screen with their full length feature movie, which was what Butt thought was the pinnacle of the Corner Gas saga and the true finale.
"For me, when we did the movie it was always going to be the cherry on top, but the response to the film was much huger than any of us anticipated, we were physically selling out theatres which made the network come to us and say there is obviously still an appetite for the show, do you want to come back and do more episodes?"
Butt wanted to make sure that Corner Gas moving forward would have a different angle and with his background in cartoon illustrating animation seemed to be the right fit. Corner Gas was known for the flash back or sidebar comedic sequences, however, they were always limited to what humans can actually do. With it now a cartoon, this door has now opened to allowing for a much bigger scenario that pushes comedic boundaries.
"You are limited to what you can do in the real world, in the animated world we can take
those fantasy sequences and take them farther. So if Brent imagines who would win in a fight between a Sasquatch and a Unicorn, you actually get to see a bit of the fight."
Majority of the actors on Corner Gas live in Vancouver, but a few live out east. So how do the actors maintain that comedic timing from so far away?
"Most live in BC, Three in Ontario. With animation you have options of doing your parts independently, but we felt that the chemistry we had was magic, and we wanted to duplicate that. So all the Vancouver actors go to a Vancouver studio, all the Toronto actors go to a Toronto studio and we are patched in live- we are all acting in real time."
Butt shared that all the actors were ready and willing to do this show and excited to be a part of it and work together again; however with the passing of Janet Wright who played Emma Leroy, there was a slight concern as to what to do with her character.
(For the full interview you can click the youtube link!)
"We were pretty far down the road in development when Janet passed away. I was trying to think of what she would want us to do, so I spoke with her husband, Bruce who said Janet would want Emma to live on with the rest of the gang. He gave us his blessing as well as a suggestion of a friend of Janet (Corrine Coslo) who has a similar timber to her voice; she just fit in like a glove. It's a nice feeling to know that Emma is being played by a dear friend of Janets."
While the original characters are back as well as some supporting character will be making an appearance, there will be an introduction to new characters to the Dog River community.
"You need create characters and have them in the animation bank so you can pull them out as needed."
When asked if he was planning on sneaking in a Cameo with Kiefer Sutherland like he did in the original series, Butt cleverly responded.
"I don't know if we can afford him! He has done really, really well for himself!"
Corner Gas had such a great success, that the show was syndicated in the United States.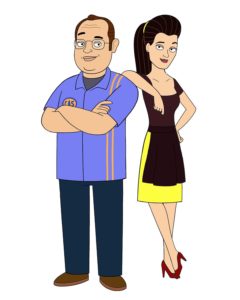 With this new inception, Butt explained that the US market as well as Australia and United Kingdom have been requesting the show to be aired on their side of the pond. With that said Corner Gas is a great piece of Canadiana comedy that is clean, funny and welcoming to all members of the family.
It's not too often you speak with a star of a popular series, so The Current felt it was important for Brent Butt to know that one Revelstoke local has been sporting a Corner Gas hat steadily since the shows inception and in fact, has a closet full of them for when the hat fades to dust, he can simply put on a brand new one. Butt was quite charmed to hear about how Brett Renaud is a true fan of the show.
"I love hearing stuff like this!"