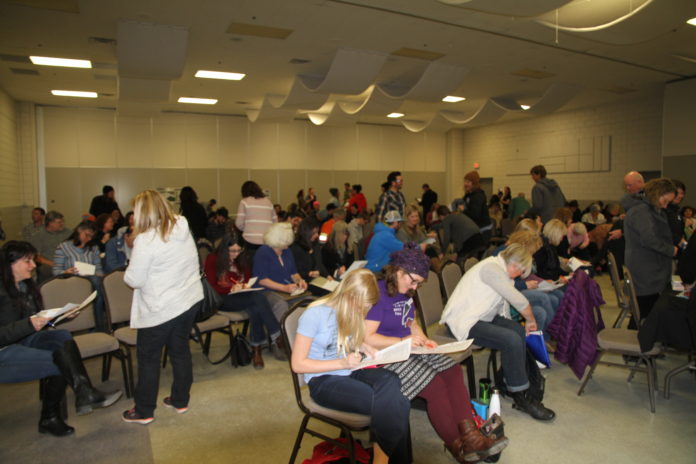 This is the time of year where the societies of Revelstoke are diligently writing grant applications to receive funds for their projects, Not for Profits and charitable organizations. The Columbia Basin Trust Community Initiative presentations took place on Tuesday, April 2nd at the community centre.
With over 100 people in attendance and 52 pitches to hear, the evening began at 7:00pm and ran until 9:30pm. Each of those 52 groups summarized in two and a half minutes what their grant application was in as well as how much money they were requesting to further their goals and achieve their mission and mandate.
Many of the petitioners were repeat applicants that represent some fine programs in our community that go all year round and support local families on a daily basis. Community Connections presented six times, all for separate and worthy causes, the Revelstoke Community Childcare Society presented for two separate and valuable programs and the Arts Council presented with hopes to maintain the high quality of work and standard that has been established in Revelstoke.
Throughout the evening, many applicants requested a nominal amount of money in comparison to larger scale projects, but the lower dollar amounts requested add up pretty fast.
The total amount that will be given from the CBT Community Initiatives Grant comes to $386,056. With the 52 applicants and their total request cost it comes to $684,348 leaving a $298,292 difference.
The City of Revelstoke will be administering the program results on behalf of the CBT and CSRD. A committee consisting of Bill MacFarland, Melissa Hemphill, Linda Chell, Diana Bostock and Cindy Maloney will review the applicants for approval. Upon the committees' final decision, it will be then passed to the CSRD for approval and then to Council in early May.
Those in attendance were able to have a vote for the 10 programs/projects they felt deserved the money they requested and an anonymous ballot form was given to everyone to fill out. The committee will look at the results and it will make up 10% of the deciding vote.
BC Interior Forestry Museum-Exhibit Revitalization
Bee Awareness Society
Girls on Ice Canada
North Columbia Environmental Society
Wildsight- Climate Education Program
Community Connections- Food Bank
Community Connections- Food Secure Revelstoke
Community Connections-Social Justice Advocate
Revelstoke District Humane Society
Revelstoke Hospice Society-PALS
Revelstoke Local Food Initiative-Revelstoke Grows
Revelstoke Senior Citizens' Association-Volunteer Program Coordinator
Revelstoke Women's Shelter-CRN
Revelstoke Women's Shelter-Moving Forward
Aboriginal Friendship Society- Men's Campfire Group
Flying Arrow Productions-AB Project
Flying Arrow Production- Community Musical
Revelstoke Arts Council- Building skills, tourism and community use
Revelstoke Arts Council-Arts Presentation
Revelstoke Folk Music- Coffee House
Revelstoke Heritage Railway Society
Revelstoke Multi-Cultural Society-Carousel of Nations 2019
Revelstoke Museum and Archives
Revelstoke Visual Arts Society-New Exhibition Program & Signage
Revelstoke Visual Arts Society- Luna
Avalanche Canada-Public Outreach
City of Revelstoke- Youth Access & Outreach
Community Connections- Parent Support Services
Community Connections Society-Summer Day Camp
Community Connections Society-Youth Service Program
Community Futures-Start Up Revelstoke
L'Ecole Des Glaciers
Okanagan College- Community Training Subsidies
Open Mountains Project Society
Revelstoke Bear Aware Society
Revelstoke Community Childcare Society- Roots of Empathy Program
Revelstoke Community Childcare Society- Youth Service Program
Revelstoke Secondary School- Youth Create Challenge- WE Day
School District 19-Breakfast Programs
School District 19- Screen Smart
Columbia Valley Skateboard Associations-Kovach Park Skatepark
Farwell Splash Park Society
Revelstoke Cycling Association- McPherson Trail Network
Revelstoke Golf Club
Revelstoke Nordic Ski Club
Revelstoke Paddlesport Association
Revelstoke Skating Club-Coaching Training
Sage Orienteering Club
Revelstoke Current Online Newspaper Society
Royal Canadian Legion Branch 46
Stoke FM Policy and Procedures
Trout Lake BC Internet Society
Note: The dollar amounts were not published as they were not given out. Some presenters shared the amounts in which they were seeking, but not all did therefore the list of the dollars requested would be incomplete.