The Revelstoke RCMP Detachment hosted a Town Hall meeting on Tuesday, February 27th to cast a wide net of information across the community as to what they do, where they are at and how they function as a unit.
For most of us, we see the Police here and there, driving by us on Victoria, parked along Woodenhead-Loop, and occasionally downtown walking. We, as the general public have a vague idea of what they do based on statistics, police reports and of course, television. What goes on behind the brick walls on Campbell Avenue run much deeper than we realize.
The RCMP is here to mediate problems and find solutions to issues. Some of the issues are dangerous, intense and others are misdemeanors, nuisances and vehicular incidents. Some of the smaller matters that are important to the general public, can also be time consuming for the staff. For example, many individuals in Revelstoke are volunteers and need a criminal record check; someone has to take the time to run the check and fill out the paperwork. For groups that are hosting fundraisers and need a liquor licence, those too need to be approved by the RCMP, while they are more than likely not the most difficult reports to approve, it is still time on their part as they know this is valuable to the group who applied.
Living in a resort municipality means that policing is somewhat different than other communities that do not have the transient numbers during peak seasons that we get. There are higher number of calls and more incidents reported that need to be addressed.
While we do not often call
the RCMP on a regular basis, it is nice to know they are here serving and protecting us, but at what cost does this service come at? The City budget for the Revelstoke RCMP is bundled in with Bylaw Services as well as the Courthouse, so it is hard to break down an exact amount for the detachment; however the budget in total is $1.85 million dollars. This budget covers 13 Municipal Police Officers, Municipal Staff, overtime, maintenance of the building, operational costs as well as apparatus maintenance costs (fuel). When a community is under 15,000 people, there is a 70/30 split in which, Municipality pays 70% and the 30% is payed for by the Provincial Government, so when a Municipal Officer is sent to the highway, the Province of B.C. covers that cost.
The average cost of a police officer from training to decal, including their pension is $165K. Revelstoke pays 70% of that, roughly $125K. With 13 officers at $125k each, the overall cost is $1.6 million. Concerns have been brought to the forefront on these costs and that perhaps having a municipal police force would be more appropriate, however the cost of that would almost double.
"I won't even get into the cost. You are looking at doubling your budget. The City of Nelson is a great example. They have a Municipal Police Force; they have 20 Police Officers, all payed for the Municipality, they carry the pensions, they are responsible from start to end, and there budget is $3.2 million (roughly)."
That is a difference of $1.35 million difference between the Revelstoke budget and Nelson Budget. If a position is vacant due to an officer sick, maternity leave, there is no cost to the City. It becomes a budget plus for the City of Revelstoke.
The staff layout of the detachment is a municipal structure that has 1- Staff Sergeant, 2-Corporals, 11- Constables, 1-GIS Position, Admin Staff, 1-Court Liaison, 1-Officer Manager, 1-Transcriptionist, 2-Receptionists. Provincial positions are part of the package; they are from the Province to the Municipality. In total, there are 15 Police Officers, 13 are paid for by the Municipality and 2 are paid 100% by the Province.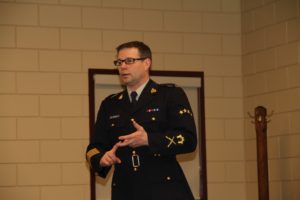 "Things have changed in policing. We are not just seizing drugs putting everything from their left pocket to our left pocket and their right pocket to our right pocket. Now we have to deal with dangerous drugs; Fentanyl, Meth, anything that can really harm us just as much as anyone else."
The RCMP acquired a fume hood that was originally funded by the City of Revelstoke, but the Provincial Government stepped in and reimbursed the City for the cost of the safety apparatus.
The local detachment is busy on a regular basis, with 201 prisoners, 3492 calls to the front desk and 6683 phone calls overall, staff were constantly on the go.RCMP spent majority of their time investigating these matters in 2017:
69 Thefts – from vehicles, of vehicles, of bicycles
98 Assaults – domestic violence and stranger assaults
22 Uttering Threats – in person and on-line
55 Mental Health Act – apprehensions and suicidal interventions
31 Break and enters – to residences and businesses
44 Criminal Code Impaired drivers
79 Immediate Roadside Prohibition drivers
13 Trafficking Drugs
102 Causing a disturbance – noise complaints
85 Assistance to the public – mediating solutions
17 Sexual Assaults – includes sexual interference and exploitation
21 Sudden Death investigations
275 Abandoned 911 calls
The projected file count for 2018 is 4600 files (385 per officer).
Revelstoke is a desirable place to be, this also includes transients or vulnerable persons who make their way here, yet have no place to be nor a home anywhere else. While there is a Woman's Shelter here, there is no place for males that may have slipped through the cracks of society.
"They can be vulnerable because they are sleeping in back alleys, but we are there to assist them, interact with them, offer them a blanket, offer advice, sometimes we go to Community Connections to get them a bus ticket to get them onto their next spt. We can't offer cells; we cannot take away their civil liberties just because they are cold."
A summer time issue is cyclists on the road. While, many follow the rules of the road and treat their bike as if it were a motor vehicle (which they must follow the same rules as a motor vehicle) many do not causing frustration for those that are affected.  Many do not like to wear their helmets for a variety of reasons; it's not cool, they are only cruising around town, they are not going far and with a $25.00 charge if they are caught, the penalty isn't exactly breaking the bank, therefore enforcing the rule is a lot harder than one would think. The local detachment is focused on the education aspect to helmet and road safety by starting with the youngsters and speaking with youth in grade 5 to infuse the idea that it can save their life.
In October of 2016 a police officer was shot on the Tans-Canada Highway by a male suspect who murdered someone in Saskatchewan and wound up in our area. After fueling up in Sicamous, they suspect headed back towards Golden who ended up in a road block and shot the officer. Prior to this, there was a lot of activity, a neighbourhood was locked down and there was not a lot of information that was being given out.
"One of the criticisms I have heard on the RCMP- I can accept that- is that there was a lack of communication and that a neighbourhood was locked down entirely and they didn't know anything. The only point I can say, is we didn't know a lot either. We were trying to figure out who this person was, and the best decision we could make was lock the neighbourhood down, control the comings and goings so we could search vehicles and try and keep those people safe as possible."
One year later, October of 2017, the stand-off incident that took place just outside of Grizzly Auto on Victoria Road was another major event that caused commotion in Revelstoke. The event took place over the course of 6 and a half hour event from the time of the stopping of the vehicle until the confirmation the suspect was deceased.
"Do I regret that I took six hours? I wish it had gone a lot faster because it sure dragged out, but nobody else got hurt. That will always be the message in what we do a police officers. We don't need to rush into something if we can avoid anyone else being harmed."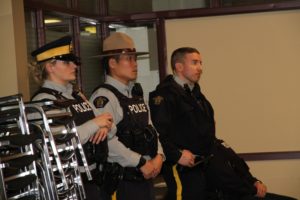 The RCMP work in collaboration with Interior Health and the Woman's Shelter when it comes to sexual assaults in order to help and alleviate the issue. According to Grabinsky, there were three unreported scenarios of sexual assault and 17 reports of sexual assault in our area and the RCMP are aware three are for more, however without proper reports; it is very difficult to look into the matter further and potentially solve the case.
"It is really hard as police officers to tell the public what we don't know. Very hard to investigate what we don't know and that what was placed in our laps."
Grabinsky shared that they are regularly searching for missing skiers, snowboarders and sledders that get lost or go out of bounds and lose their way. Missing persons is also a major time consumer, while the RCMP are very aware of the upset these situations cause the families, they can't always justify a search if it may put staff at risk. The 1964 Mooney Plane that went missing over the early stages of winter in 2017, has yet to be recovered, however the RCMP have full intentions to send out a search party when the thaw comes and it is safe to do so.
"I really want to find that plane. We are talking about a needle in a haystack right now, so we are hoping in the spring, when things melt, we will redeploy search and rescue and hopefully find it for the family."
Closures on the Trans-Canada Highway this year have been so frequent it was becoming easier to assume the highway was closed rather than open. Many people grow extremely frustrated, as many times the road closure can reach 6-8 hours depending on the situation. The RCMP must treat a fatality on the highway as a homicide. By default, this automatically means the road will be closed up to 6-hours to properly investigate the carnage and make sure due process happens for the deceased. While single alternating traffic can be a possibility, the priority is the individual(s) who perished in an accident.
A hot topic as of late is drug trafficking. When locals lose their loved ones to drug overdoses or drug related matters the voices grow loud and a result is expected. 13 investigations alongside 4400 files just last year alone went through the desk of the local RCMP making it a slow crawl. Drug trafficking investigations are extremely time consuming, warrants are needed and it is drastically different that it was 30 years ago in terms of getting a simple warrant.
"There was a time in the 80s and 90s, show a warrant from your back pocket and you were in the house. Those times don't exist. It is to the benefit to everyone in the general public, not to the police. We get the information; we will get a warrant and get into the house to solve a crime issue that is happening in our community. By no means are we shirking our responsibility."
Grabinsky indicated that understand people feel they are fearful of those that deal drugs, and made very clear that are not fearful nor in the dealers pocket, but with 15 RCMP Officers it cannot always be the top priority, however, they have every intention of getting them. There will be a General Investigation Section (GIS) starting March 1st with a full on focus of drugs trafficking in our area.
In terms of local drug usage, the RCMP are unwavering on the notion that drugs will kill you. That will never change and they will enforce the law, however, it is a public health matter. With that said, if someone is overdosing, not calling 911 because of fear of being charged by the RCMP should not be a factor in the decision to call.
"We are not there to charge someone at that time; we are there to help them. We want to be there in an overdose situation to assist them. All police officers will be carrying a pouch with Naloxone (Narcan) to counter the effects of the opioid. That's our job."
The crime rate in Revelstoke has not changed a great deal prior to the ski hill opening to now. While many locals feel that it has, Staff Sergeant feels that some of the fear is due to the fact that the local detachment does keep regular contact with media and does share what is going on in our surroundings, this creating some of that paranoia. While harsh crimes do happen, many of them are petty theft of bikes, loose change from unlocked cars and easy to grab loot.
"It's important to know what is happening in your community rather than not."
Within the next year it is most likely the RCMP will become unionized. This will automatically change the rules and how the overall structure is as of right now. When this time comes, changes will come at a cost as there will be a mandatory amount of Police on staff. With a minimum of 2 officers per car that are working the evenings, wages will change as well as benefits and scheduling. There is no clear vision as to how this will break down or when it will come to fruition, but there will be an increase of officers in due time.
The RCMP would like to build their Annual Performance Plan for 2017/18 with input from the community. Historically, it is created with assistance from City Council; however, Grabinsky would like to hear what the community has to say.