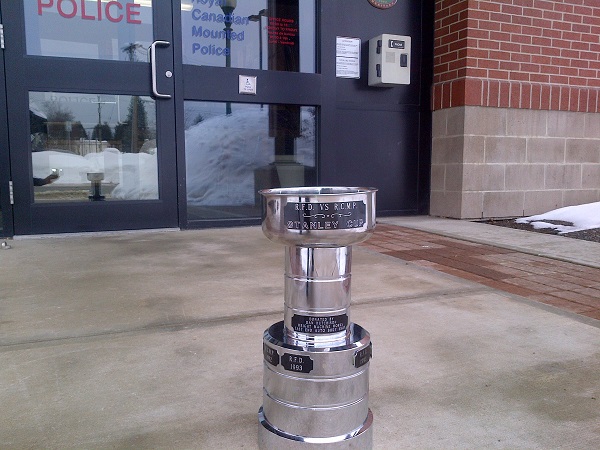 By Cpl. Dan Moskaluk,
Each year the Revelstoke RCMP Detachment Mounties play the Revelstoke Fire Rescue Service Firemen in a charity hockey game. The "Mounties" brought the cup home this year.
This year's game was held, on Saturday February 17, 2018. On the line was the prestigious R.F.D VS R.C.M.P. Stanley Cup that has been going back and forth across Fourth Street West, between the RCMP Detachment and the RFRS Fire hall, for many years.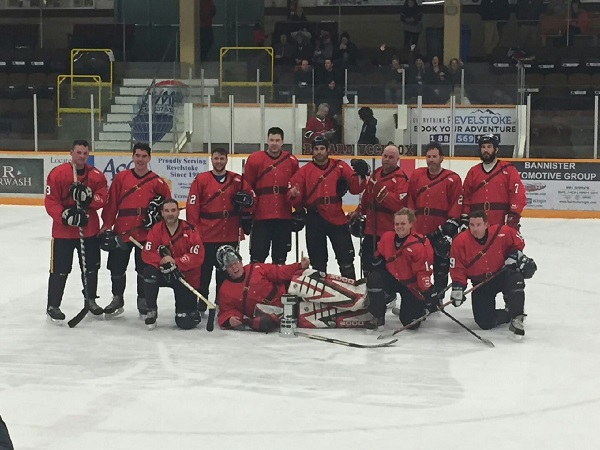 This year the Mounties brought the cup back to the Detachment with an 8-4 win over the Firemen. Assisting on the Mounties team were a few civilians, a probation officer, two DND soldiers, present from the Roger's Pass artillery unit, and of course RCMP members. The $800.00 dollars raised from the game was split between the two fire charities; Muscular Dystrophy and the Burn Unit and for the RCMP, the local charity, Trees for Tots.
We came to the ice this year with a new addition, Mountie specific hockey uniforms. Acknowledging the RCMP's ceremonial uniform, the hockey jersey was created as a Red Serge, complete with Sam Brown and lanyard. Blue hockey pants and High Brown socks were added to complete the look. We couldn't figure out though how to safely wear a Stetson on the ice stated SSgt Kurt Grabinsky of the Revelstoke RCMP.
The charity hockey game was well received at the Revelstoke Forum, and was part of the Annual Hockey Day in Revelstoke. The day included two Minor Hockey games, a free family skate, the charity game, a jersey dedication for local a NHL player, and was topped off with by a KJHL Revelstoke Grizzlies game.
We'd like to thank all of the community who came out that day in support of this great annual community event. It's always an honour and pleasure for us to participate, and of course secure the cup for another year. We are already practicing up for defending our title next year. Added Grabinsky.