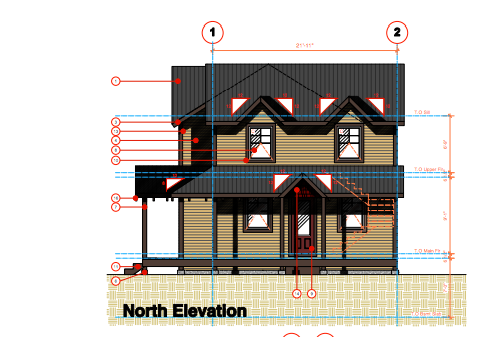 Revelstoke is truly one of the unique cities that looks like a town, and being its historic nature, many of the homes have a breathtaking outer shell that gives not only the house character, it also gives the town character.
The home that rests on the corner of 3rd Street and Vernon Avenue is one you may drive by and not think too much of as of right now. It has been altered from its original state and doesn't showcase the quality and texture of a true heritage home, yet it is just that. Better known to the locals as the Gallicano House (which is a Protected Heritage Property in the City's Official Community Plan), could see a delightfully charming renovation.
This property is a single family dwelling that pre-dates 1899 which are the earliest records available. The address has two legal parcels of land that also date back to 1899. The house has seen numerous modifications over the years including the enclosing of the front porch and the removal of two window gables.
With the property and house as old as it is, it is very difficult to determine which aspects of the house were original, especially those aspects that were removed over the course of 119 years. The owner has submitted an application for a Heritage Alteration Permit in order to allow a second storey addition at the rear of the building and a significant external renovation. An internal renovation is also proposed, however this is not subject to a Heritage Alteration Permit.
In a Heritage Advisory Commission Report, Daniel Sturgeon noted, "Staff are supportive of the proposed materials, colour scheme, and the overall intent to refurbish City of Revelstoke Memorandum to Commissions and recondition the house. The addition of floor space is reasonable and the massing of the house is not inconsistent with others in the area and the heritage character."
While City has a few concerns regarding the unbroken wrap around porch and an off-set roof line (which is inconsistent with the established heritage character) they appear to be optimistic about this rather exquisite design and unique re-imagining of the rather dilapidated home.
At this point, the Commission is requested to provide comment and recommendations to Council regarding the form and character of the proposal as it relates to the Heritage Conservation Area Guidelines contained within City's Official Community Plan.