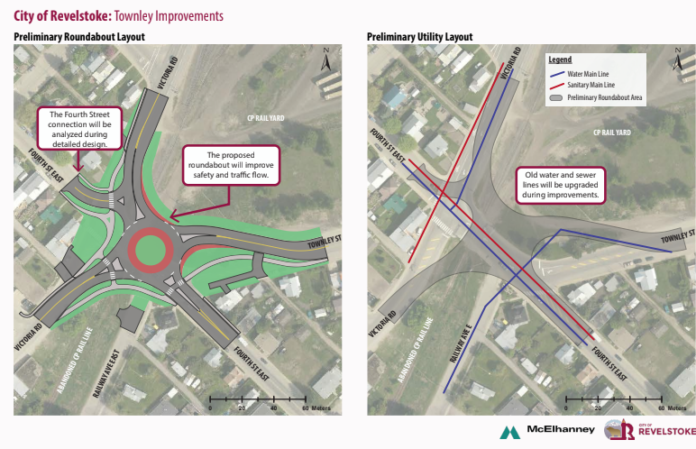 After a special media invitation to Council Chambers Acting Mayor Linda Nixon announced that City was successful in application for two grants from the Federal Gas Tax Fund and Revelstoke will now have two major projects without the burden of taxation from the City.
Each year, the Government of Canada provides over $278 million in funding for local government infrastructure projects across British Columbia through the Federal Gas Tax Fund. The Union of BC Municipalities administers the Federal Gas Tax Fund in British Columbia in partnership with the Government of Canada and the Province of British Columbia.
The City received a $5,078,300.00 grant for a roundabout to be constructed at the Townley Street, Victoria Road and Fourth Street intersection. The second project will be the integration of the Integrated Community Sustainability Plan (ICSP) will become integrated into an updated Official Community plan (OCP) to the tune of $167,040.00. With the ICSP bec
The roundabout project is a strategic upgrade to the eastern access that will allow for a smoother flow of traffic heading in all directions, including Revelstoke Mountain Resort, Fourth Street, the Revelstoke Forum and Townley Street headed towards the Industrial Park. The railway crossing will be removed when the roundabout is to be constructed in a speculated time frame of 2019. Engineer Mike Thomas is currently working on a plan with City staff as well as a consultant.
"We have started work on the design. We have McElhanney Consulting working with City Staff, we will be bring a plan for Council to consider that will include stake water engagement, risk management, we will have a drafts schedule that will probably include construction starting in September."
The ground that may be broken in September will be looking at underground utilities as many of the sewage pipes in that are are from 1906 and 1926 and these are matters that need to be addressed before the roundabout is built.
The Federal Gas Tax Funds provides $30 million in funding for communities outside of the Greater Vancouver Area with a maximum of $6 million dollars in total for one grant, and Revelstoke will benefit from this in a great way.
The total Federal Gas Tax Fund contribution towards the 112 projects in B.C. is $192,980,158. Our neighbouring ski resort, Golden received funds for the dikes along the Kicking Horse River in Golden, to provide flood protection for the historic downtown area as well as Lake Country will build a new multi-generational activity centre, upgrade the local arena and renovate the seniors centre, significantly boosting recreational and fitness opportunities in the community.