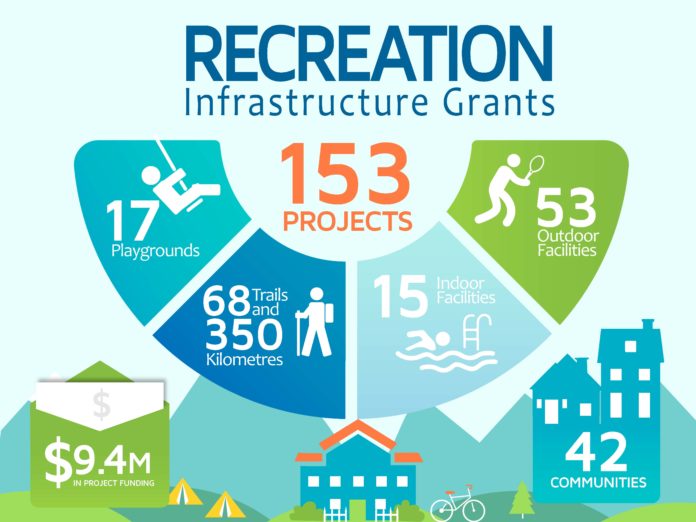 In 2016, Columbia Basin Trust set out to help Columbia Basin residents lead a more active and healthy lifestyle by increasing access to high quality recreation places and spaces. In this last intake of its three-year Recreation Infrastructure Grants program, 53 new projects were approved for over $3 million.
"We're so pleased this program has had such an on-the-ground impact in such a short period of time to address an area that Basin residents told us was a priority," said Kindy Gosal, Columbia Basin Trust Director, Special Initiatives. "Many Basin communities have benefited from this program over the past three years, with residents from all walks of life getting an opportunity to enjoy the activities they love while improving their mental and physical well-being. We want to thank all the people, groups and communities involved for helping to make this program such a success."
The Recreation Infrastructure Grants program provided funds to construct new recreation infrastructure or upgrade existing infrastructure. This ranged from backcountry trail networks, to splash parks, to disc golf courses.
In total, the program has funded 153 projects with $9.4 million, including over 350 kilometres on 68 trails, 53 outdoor facilities like playgrounds, pickleball and tennis courts, and 15 other facilities like riding arenas and gymnasiums. Projects are located across the region in 42 Basin communities.
With this program ending, the Trust will continue supporting sport and physical activity in the region in other ways. For example, the Trust is currently developing a new program focusing on recreation areas and trails, and new initiatives for youth in sport. Watch for upcoming announcements.
The following describes a few of the recently funded projects. View the complete list at ourtrust.org/rig.
A Year-round Place to Play
In our climate, some sports, like soccer and baseball, can only be played for six months. In Cranbrook, the Kootenay East Youth Soccer Association intends to change this. It will build an air-supported soft dome to create an indoor sports facility. The facility will provide a year-round space for any field-based sports users that wish to use it, and have a walking/running track around the perimeter.
"This facility will improve the rate of development of young players, not only by doubling the amount of time facilities are available in a year, but also because play will occur on a surface—artificial turf—that best resembles the field conditions these sports play on when outdoors," said Mike Robinson, member of the Indoor Sports Facility Committee. "It will increase the number and diversity of recreational sport leagues during winter months, plus can be used by anyone interested in active living, such as after-school youth groups and seniors groups."
A Small Community Welcomes a Popular Sport
An old baseball diamond will soon have a new incarnation as a pickleball court. In the community of Oasis, north of the city of Trail, the Oasis Recreation Society will partner with the Regional District of Kootenay Boundary (RDKB) to construct a court for this fast-growing sport. Located next to a community centre and playground, the court will bring people back to the park and increase its usage.
"Community members want to stay active close to their own community without having to drive or pay extra for those services, which this new pickleball court will enable them to do," said Mark Daines, Manager of Facilities and Recreation, RDKB. "Residents of the Oasis and Rivervale communities, and folks from the greater Trail area, will spend more time in the Oasis Park and create a social hub. This project will improve residents' health and wellness and increase social connections."
A Play Place for All
Multiple slides, stepping stones and a climbing wall: the Slocan Park Community Hall Society will upgrade its current playground by installing new equipment, renew the surfacing, as well as add new perimeter fencing. When complete, the playground will provide a safe and innovative play space for children ages two to 12.
"We're a small community with a big heart and are very enthusiastic about upgrading our playground for the children and families in Slocan Park and surrounding areas," said Lorraine Podovelnikoff. "This upgraded, safe and public playground will promote physical activity and unstructured play for more children. It will encourage family members to attend this green space and socialize with friends and neighbours, thus fostering the well-being of individuals and the community."
Built for Bikes
All ages and levels of bike riders—from kids on striders to adults on mountain bikes—will have a new place to play once the Elkford Community Enhancement Society constructs a two-acre non-motorized bike park. This space will encourage people to be physically active, enable current riders to develop their skills and help spread the passion for biking.
"When we asked the residents of Elkford what they wanted to see as additions to the community landscape, a bike park was one of the top attractions listed," said Brad Cromey, Project Manager. "This bike park will be the only purpose-designed action sports area in or around Elkford and will provide a safe, inclusive place for large numbers of kids and families alike to be active and outdoors."
 A Boardwalk Adds Function and Interest
Ten kilometres north of Nakusp, the Mount Abriel Trail Network Development offers a variety of biking choices. One of these is the Lake Trail, which will soon feature a new wooden boardwalk. Close to the development's campground and main staging area, the boardwalk will cross a deep gully and keep this wide, gentle trail suitable for trail users of all abilities.
"With this boardwalk, beginner trail users, children, seniors and adaptive mountain bike users will be able to complete the full length of the Lake Trail," said Janis Neufeld, Project Manager, Nakusp and Area Bike Society. "It will also create a beautiful and exciting feature that will draw people to the network, encourage more people to be physically active and increase recreation tourism resulting in a positive economic impact."
Recreation Infrastructure Grants by the Numbers
Columbia Basin Trust supports the ideas and efforts of the people in the Columbia Basin. To learn more about the Trust's programs and initiatives, and how it helps deliver social, economic and environmental benefits to the Basin, visit ourtrust.org or call 1.800.505.8998.