The man in the red van drives around town fixing small issues all over town, helping others get to and from their treatments in Vernon or Kelowna and barely takes time for him just to sit back and rest his eyes in the afternoon like a retiree deserves to do.
He is quiet in nature, reserved but warm, generous and does not have a lazy bone in his body. Who is this man who won't stop to smell the roses?
Robert Okumura is this man, and he has quite the unique history that spans across Canada and back to Revelstoke.
Robert was born in Vernon Jubilee Hospital in 1943. When Okumura was four years old his family left Vernon and ventured to Revelstoke. His father found work in a prisoner of war camp in Blue River as a logger helping to open up the Yellowhead Route as well as Gallicano Bakery where the U-Brew is currently located.
Okumura was never a stranger to hard work, even as a kid, but you had to be a certain age before you could get a job working the railyard.
"In the late '50s I got a job at CP Rail, I lied about my age in order to get work. I ended up working there for seven years and then ended up in Field."
With an itch to move on in the 60s, Okumura began his adventure as a Nomad. He ended up in Calgary and found work as a manager-cook at the Red Barn Drive-In right downtown where he worked for two years, and met his first wife. In '67, his wife decided it was time to head back to her roots to Saskatoon, and Okumura, being the free spirit was not a hard sell to pack up and take on a new adventure in another community.
"I wound up getting a job with a restaurant supply and equipment company, I had trouble getting better jobs until Imperial Esso was looking for someone in research and development of plastics, So I applied, out of 14 applications, 13 were University graduates with PHD in physics and chemistry. Then there was me who didn't' have a degree! They wanted someone who could work with their hands, and after four interviews- I got the job."
Okumura ended up with a division to run in which over 2 million dollars on plastic extrusion machines for Okumura to operate and continue research on indoor/outdoor carpet and fibres, poly-twine rope, and the thick ropes for docking ships. Although Okumura was designated an office with a secretary, his old school ways were always where the machines were. Offices were for the paper pushers- not Okumura. In 69' it was time to leave the company, despite the fact the head of the company wanted to keep his skills around.
After a job offer from Harry B, Kennedy Sporting Goods, Okumura packed up his young son, Michael, his pregnant wife and headed to Toronto. After sometime working for the sporting goods store, the owner sold it to Sport Chek, and it was off to the races for another adventure in work with Fisher Ski Company.
"I looked after warranty work, doing all the repairs for North America, which was the time the crazy Canucks, were all lined up with Fisher Skis, Ken Reed, Dave Irwin and the rest of them."
By the time 1979 rolled around after the divorce, it was time to move onto the next thing. Part of the next thing was a second wife and new life.  While Okumura was living it up with a new wife and little toddlers who adored their father, he hit a gust of luck gambling and one over 170K- that was just one of the big wins he had.
After running a French Bistro Restaurant in Toronto, it was time to move on again.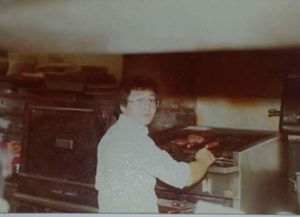 Okumura decided that it was time to head back west.
"I was heading back towards this way, and I ended up in a town called Raymore. They were looking for a chef, so I figured I would work a bit, make some money and leave. Well, that is where I partied lots and I met my third wife! I had two more girls and the rest is history!"
What was meant to be a several month stint, a layover, became a twenty year stint.
Okumura went back to college at 55 years old and took heavy duty mechanics where he graduated with honours, and found a job in Thunder Bay, which was the polar opposite of the original plan west. After the third marriage came to a close, the job wrapped up in Thunder Bay, it was time to come home for good.
In 2005, Okumura decided that home is where the heart is. Although he is retired, you would never know it.
"I do everything. I do maintenance work for Remax, I help out other people, and I donate a lot of time helping people get to the hospital for appointments."
When asked about his highlight and low points in his 75 years of experience, Okumura told the Revelstoke Current, "Doing different jobs in different places and not regretting those jobs. Regrets? I can't really say I have any. It is life experience. I have six grandsons and no granddaughters yet, but I am pretty proud of my kids. No complaints. Easy come, easy go!"