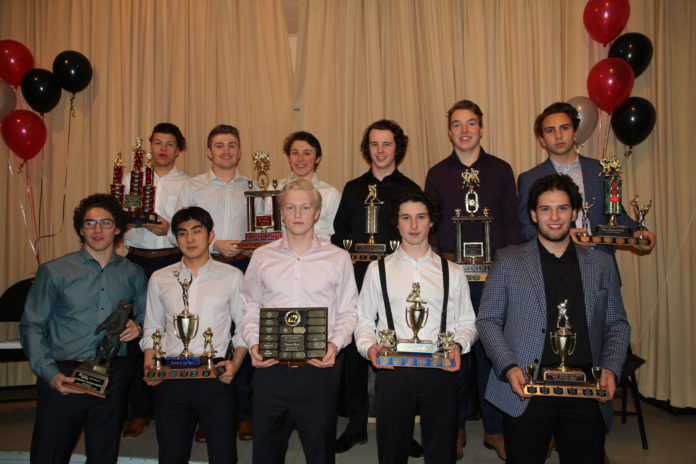 Family, friends, billet families and volunteers congregated upstairs in the Legion for the Annual Awards Gala for an evening of celebration and recognition of the 2017/18 Revelstoke Grizzly season.
This year recognized a few of the players that shined through over the past six months.
Rookie Of The Year: Cody Flann and Sho Takai 
Unsung Hero: Ryan Bedard
Top Scorer: Jordan Robertson & Cody Flann
M.V.P: Tommy Bodker
Top Defenceman: Joel Scrimbit
Most Dedicated Player: Giovanni Sambrielaz
Most Sportsmanlike Player: Ullar Wiatzka
Most Improved Player: Mathew Cadden
Most Inspirational Player: Jacob Bourchier
Community Honour Award: Harrison Rosch
Of course, without the fans who would be there to cheer them on to the big victory? The Revelstoke Grizzlies would like to recognize one fan that stood out as a gem in the crowd of supportive stars.
Cesare Bafaro was recognized as Senior Fan of the Year and the Junior Fan of the Year went to Jesse Jacob.  Many volunteers are needed to make this cog spin, more than most realize. With so many great volunteers who give up their personal time to make sure the evening is an event for Revelstokians there are always a select few that make it a major part of their daily lives. This year the Grizzlies recognized Mavis Cann as Volunteer of the Year.
Coach Ryan Parent shared with the Revelstoke Current, "Truth is, I focus on the game. I rely heavily on the volunteers, Roma, Tammie and Mavis are good examples of the pillars. As far as those that give up their time weekend after weekend, I am grateful for it. I would like to thank the booster club and everyone else that help keep the Grizzlies playing."
The Grizzlies have clinched a spot in the playoffs and will be taking on the Kamloops Storm next weekend for the first round.