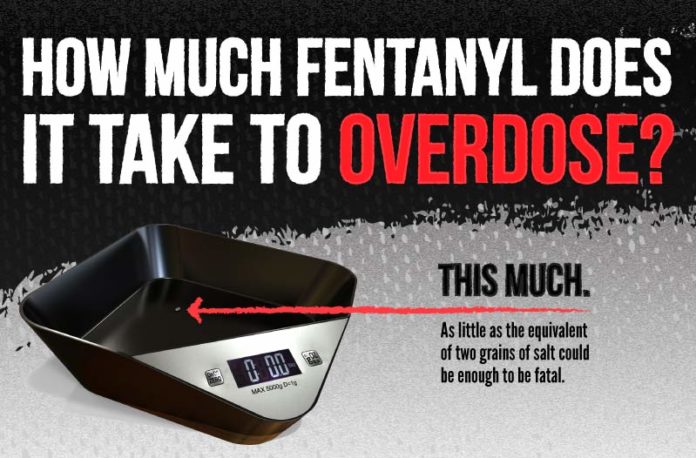 Revelstoke is arguably one of the most unique and beautiful small cities with a majestic hue that seems to flow through it on a continual basis. It is a community minded town with a lot of love and support for one and other as well as a vast amount of recreational activities for not just adults, but for kids to partake in, keeping them busy, healthy and active and hopefully; away from drugs.
Fentanyl is a massive problem all over North America. It is not a Vancouver problem, it is an epidemic. With a much larger population in the major cities, naturally there will be reason to believe that more overdoses occur, which they do. Many have fled the realities of the City for a small slice of snowy white heaven; a place to call home and raise children in a safe environment. Albeit that is generally a true statement, does not mean the certain evils are not lurking in the shadows.
Revelstoke does have drugs and those drugs can contain fentanyl. We as a community are not cut off from the outside world realities. The reality is people do drugs. Despite the knowledge that they are illegal and can cause serious harm to themselves or potentially others, they inject, smoke or snort them regardless. Some do them "recreationally" and others have a serious addiction and need the proper help to find the light.  We as a society and as a community know this. Revelstoke is not a town in which drugs are bypassed. They too, seek the weak.
Our community is extremely concerned about all drugs in our area, but in particular, fentanyl after two Revelstoke natives lost their lives due to unfortunate drug related deaths.
Acute Health Services/Site Manager for Queen Victoria Hospital stated in an email that, "Interior Health has not received any report related to admission of overdose cases at Queen Victoria Hospital. If there are overdose deaths in the community (outside IH facilities), we would receive notification through the BC Coroner's Office after confirmation of overdose as the main cause of death, which might require more time.
For those that are not privy to symptoms of an overdose, these are the clues to watch for from the medical health officer:
Don't mix different drugs (including pharmaceutical medications, street drugs, and alcohol).
Don't take drugs when you are alone. Leave door unlocked. Tell someone to check on you.
Use less and pace yourself. Do testers to check strength – take a small sample of a drug before taking your usual dosage.
Keep an eye out for your friends – stay together and look out for each other.
Carry a Naloxone kit and know how to use it. A list of locations to get a kit can be found on the Interior Health website or on the Toward the Heart website.
Recognize the signs of an OD: slow or no breathing, gurgling or gasping, lips/fingertips turning blue, difficult to rouse (awaken), non-responsive.
 Andy Watson is the Manager, Strategic Communications from the B.C. Coroner's office; he stated in an email to the Revelstoke Current that "Fentanyl is detected in about 8 in every 10 illicit drug overdose deaths in B.C. so I think it's safe for you to say the majority of the deaths have fentanyl detected."
While Revelstoke would like to have specific numbers, it is hard to break down as we are grouped into the surrounding area.  For protection of privacy reasons and variability in small numbers, only townships with five or more cases per month have been included for the individual township monthly count as shown. We fall under Thompson-Caribou Shuswap.
According to the Coroners Service statistics released January 30th, there were 1,116 illicit drug overdose deaths with fentanyl; detected in 2017; a 73% increase from the year prior which was a loss of 670 lives. In 2017, fentanyl or its analogues were detected in approximately 81% of illicit drug overdose deaths.
Who are we losing to this deadly drug? We know we are losing family and friends, but where are we at with the stats?  Approximately 28% of those dying in 2017 were aged 30 to 39, with 91% between 19 and 59. Males accounted for 83% of all deaths during this period. Interior Health illicit drug overdoses last year took the lives of 200 individuals. This was the smallest number, as Fraser Health Authority had 377 deaths and Vancouver Coastal Health had 337 deaths.
To give a reference to the huge scare in numbers since 2012:
2012 = 4%
2013 = 15%
2014 = 25%
2015 = 29%
2016 = 67%
2017 = 81%
Fentanyl related deaths are among many; however it the stats are showing that males are high on the casualty list with 960 men and 196 females died in 2017. The highest death rate was 30-39 year olds with 327, 40-49 years old with 263, 19-29 with 232 and 50-59 with 233 and 60+ was 86. Sadly, there was even a statistic for those aged 10-18 and that death toll was 15; 15 more than it should have been.
The Thompson Caribou Shuswap had 52 deaths last year from the drug.  Which were 6 more than in 2016, however, it jumped from 4 to 46 in one year (2015-2016). Of course, with a higher population the Okanagan had 128 last year, over double the deaths in 2016.  The two months that have the highest deaths are July and August; the BC Interior party months.