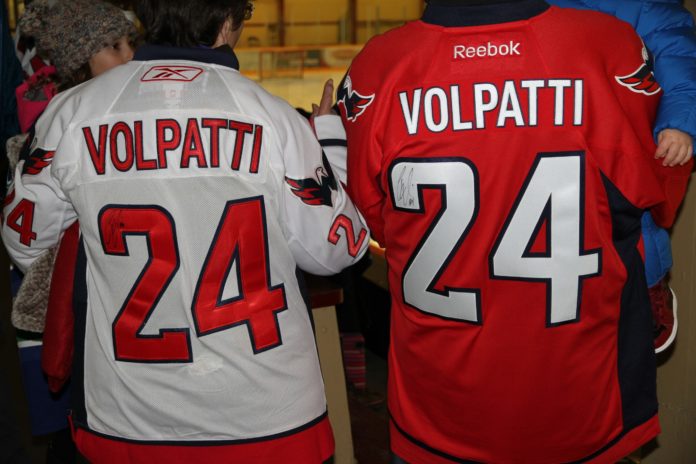 Every parent has a dream that their children will grow up to be healthy, happy, kind and caring people. That is arguably the main hope for loving parents to have for their children.  Success is another hope they desire to witness for their young ones. When those kids grow up to become healthy, caring and successful individuals, what parent would not be proud.
On Saturday, February 17th that is exactly what Tony and Lana Volpatti had a chance to witness as their son, Aaron Volpatti had not only his Minor Hockey Jersey retired to the rafters, his Revelstoke Grizzlies Jersey was lifted as well. Number 19 has been forever memorialized with the Volpatti name written in bold.
Aaron had his family lined up on centre ice as Acting Mayor, Connie Brothers delivered a speech of recognition for Aarons success in the world of hockey. With friends and family in attendance, Aaron, who is rather humble to begin with was clearly touched.
When Aaron spoke, he was gracious and spoke from the heart. He did not have a perfectly polished speech, a grandiose list of reasons as to why his name was lifted to the ceiling, only that he has a love for Revelstoke, the game of hockey as well as the wish to keep the younger generation inspired to play Canada's national pass time.
After the ceremony, as the Midgets played against Trail, Aaron's Father, Tony Volpatti shared with the Revelstoke Current what this day meant to him.
"When we first found out, I was just as excited as when he put on a Canucks jersey. Look at all these kids out there, they are just like Aaron was. They play with their hearts, and it is ok to be average as long as you try your best. They come to this arena and it is fun, not old or stale, it's fresh every time." Tony shared with pride.
Long time announcer for the Revelstoke Minor Hockey, Dennis Berarducci has been watching Aaron play since he was a little kid. Berarducci shared just how much this recognition means to him.
"Aaron was never the player that stood out. He was not flashy, but he was always in the mix.  He progressed through Minor Hockey and at the age of 16-17 he played 1-1/2 seasons for the Grizzlies and then progressed to the BCJHL Vernon Vipers where he really excelled. He received a scholarship from Brown University and was noticed by a few NHL clubs and ultimately wound up playing for the Canucks. Aaron has made revelstoke very proud, as well as his family. I know as a friend and fan that Aaron has given back and continues to do so. R.M.HS is very proud to have teamed up with Aaron and family to make Hockey Day in Revelstoke a huge success."
With the Forum buzzing all day long with Novice all the way through to the Grizzlies, Hockey Day in Revelstoke was a charming day and an open door for the young ones to see just how possible it can be to be a success.
On a side note, After the event was all wrapped up, the jar that was labeled "Delete Dennis' Moustache" with cash donations placed inside. After a total of $277.00 raised, Dennis was forced to shave that 50 year old Tom Selleck 'stache for the greater good of minor hockey.