By Cathy English,
Heritage Week is celebrated in British Columbia every February. This year, Heritage BC has chosen the theme of "Heritage Stands the Test of Time."
The Heritage BC website explains the connection between indigenous culture and heritage. "Inseparably woven through Indigenous identity and life, Indigenous heritage is conveyed through ideas, objects, language, and artistic practice. Reaching into the past, Indigenous heritage exists in living memory, passed from one generation to the next. Through the passage of time, cultural heritage endures, remaining essential and meaningful, and standing the test of time."
Revelstoke Museum & Archives is celebrating Heritage Week with a special Heritage Day at
the museum on Saturday, February 24. The museum will be free for admission all day. The day will start with a guided Downtown Heritage Tour with curator Cathy English at 10:00 am, starting at the museum. The walk will take one hour, and will focus on Revelstoke's historic downtown area. There is no charge.
From 11:00 am to 2:00 pm, Cathy will be available to help researchers find the history of their heritage building. Using city tax records and fire insurance plans, we can uncover the history of most buildings within the main core of the city.
At 3:00 pm, join us for a presentation on Revelstoke's heritage buildings. The illustrated talk will look at some of the beautiful heritage buildings that have been lost to fire or development, and some of our current heritage treasures.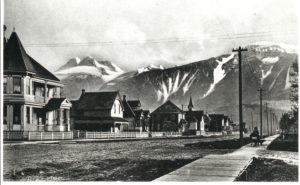 All day, the museum will be open for tours. Explore the history of the Sinixt people, learn about avalanches, and how they are controlled, discover Revelstoke's role during World War I, and much more. Challenge yourself with our Then and Now quiz, and our museum scavenger hunt. Simple craft activities and colouring sheets will be available all day for families visiting with their children.
For some extra fun, try our tricky downtown scavenger hunt, and enter your completed form for a chance to win a museum t-shirt. Forms can be picked up between Wednesday and Saturday at the museum or the Community Centre and must be turned in at the museum before 4:30 pm on Saturday, February 24th in order to qualify for the draw.
Revelstoke has a wealth of heritage resources, including some spectacular buildings, such as our Courthouse, and many heritage homes and business buildings. Beyond that, there is a vast cultural heritage that extends back to the Sinixt First Nation and other First Nations who lived on and respected the land that we now call home. That heritage includes the pioneer settlers who created the community that we now live in, and it includes us, as we continue to shape Revelstoke and contribute to making it a place that stands the test of time.