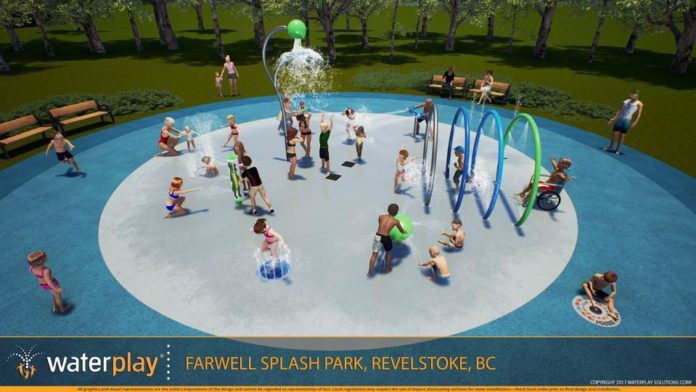 What kid wouldn't want to run through the ultimate sprinkler system on a hot day in the summer? Yes, as of right now those days seem like decades away but in just 5 months the shorts will the daily fashion and the streets will echo with the sound of flip-flops snapping the back of the heel and kids laughing while out on their bikes and scooters.
Imagine if they could bike and scooter to a safe neighbourhood park that also had a splash park?! Talk about healthy family entertainment that is suitable for all ages. Think about it, even Papa Rob can slap on a pair of Hawaiian shorts and get wet with his grandson.
The Farwell Splash Park Society has been working tirelessly to raise the necessary funds to build a splash park where the old wading pool was. What was once a park where many frequented and have fabulous memories in that pool, lately the area could use a splash of life reinvigorated into it.
The project itself is at a cost of $653 thousand dollars of which the society already has already raised $214,763.87. Why is the price tag so high? The answer is simple—nearly 50% of the budget is allocated for a recirculating water treatment system. When summer water restrictions are in effect, Revelstoke's lawns turn beige. With this recirculating water system intact, the water park can keep on flowing as it is not using up any new water. Families can venture down to the park on a 35 degree day, cool off and it will not be accordance with water conservation restrictions. It just doesn't make sense to build a flow-through facility that would end up sitting dry on our hottest days.
This project is purely volunteer-based. The City of Revelstoke will already be maintaining Farwell Park. The addition of this splash park will increase park usage, and will once again become the vibrant community gathering place that it used to be when the wading pool was still operating up until 2013. It will also be a great stopping point for highway travellers that See Revelstoke and the Chamber of Commerce could promote within the tourism sector.
Many groups have already stepped up to the plate to fulfill that $214K to make this concept a reality and a new era of imagination and wonderment for the little ones, much like those that enjoyed the wading pool, can begin.
So far, these are the generous donors.
Benevity (Royal Bank of Canada)

$1000.00

Community Foundation Development Corp.

$702.66

Downie Timber

$5,000.00

Economic Opportunity Fund

$50,000.00

Mountain Town Lodge/Beruschi Enterprise

$5,000.00

Rev. Community Foundation

$1000.00

Revelstoke Credit Union

$50,000.00

Rev. Community Forest Corp.

$100,000.00

Individual Donations

$1,709.25
The remaining amount of $438K is no small amount; however, the Farwell Splash Park Society has already submitted an application for a sizable grant from Columbia Basin Trust, and will soon start focusing on more community fundraising. They are also hoping for renewal of the Resort Municipality Initiative which could potentially yield some funding towards the project.
"We want all children to have free, safe, accessible outdoor waterplay in Revelstoke. We want families to be able to throw down a blanket and have a picnic and spend time in their community in a safe and relaxed environment," said Executive member Stacey Brensrud.
If you'd like to support this project, you can find the Farwell Splash Park Society on Facebook. Donations are also accepted at City Hall and the Revelstoke Credit Union.