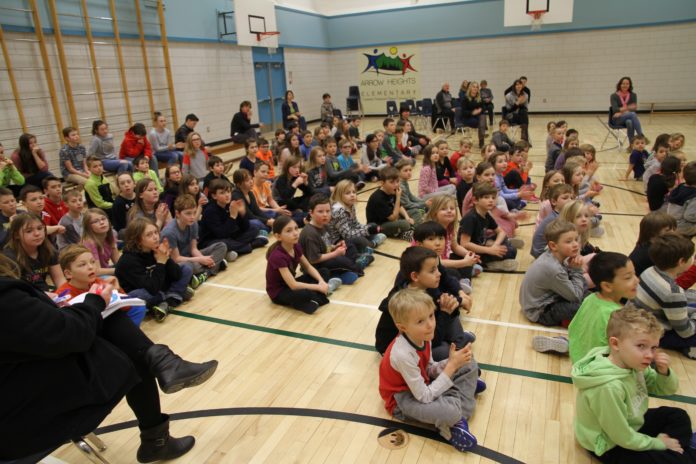 Arrow Heights Elementary were warming up for the District Spelling Bee that will be taking place in March.
The top spellers from grades 4, 5, 6 and 7 sat in front of a gymnasium full of students who were cheering them all on. Each student was given their word and if they needed that extra nudge, they could have it used in a sentence, a definition or used in a speech.
A few of the words that were selected for the kids were; Tusk, news, folds, corners, branch, awake, beehive, artwork, curved, London, silver, stroller, bakery, arcade, chamber, shrill, studio, smirk and thumb.
Tristan Balfour, Kiara Cassity, Nolan Cross, Tanvi Dhanoa, Cedar Jacob, Micah Jacob, Clara Kenyon, Seoha Lee, Maeve Macleod, Emma Mair, Maya Royle and Sabine Tomm were the top spellers in the hot zone on Tuesday, February 6th.
After several challenging rounds the four students that will be going to the District Spelling Bee in March are:
Maeve Macleod—Nolan Cross—Maya Royle—Clara Maltby
Great job to all the kids! I could see a few parents look up and to the rafters searching for the answer themselves on a few of the tougher ones towards the end!