The City appears to be in support of the construction of a 9-unit townhouse complex at 131, 135 and 141 Columbia Park Drive, neighbouring the current town home complex that overlooks the Revelstoke Golf Club.
The proposal in question is three separate lots that are on the west side of CPD totalling 4,631m2 (1.14 acres) that currently house existing single family dwellings. Lots 131 and 141 have the dwellings where as lot 135 is vacant. The existing zoning is R1 (Urban Residential) and all three lots are within the realm of Multiple Family Residential and Mixed Use. The house that currently stands at 141 Columbia Park Drive will be torn down for this new concept.
The applicant is looking for an amendment to the Official Community Plan (OCP) from T3 to T4, which is Walk-Up Residential Land Use as well as a rezoning to Medium Density Multi-Family Residential (R3). Of course, the next step in this process is the Development Permit.
In regards to the subdivision, Daniel Sturgeon stated in a Council Report "The townhouse form is consistent with the aforementioned policies and intent of the T4 designation. It provides an alternative housing form that will integrate into the existing building stock while gently increasing density and respecting the scale of buildings in the surrounding area. Furthermore, infill housing is essential to the City's goals of creating more affordable housing options."
In terms of the spaces within the townhomes, the 9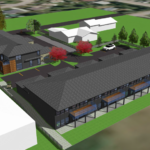 semi-detached townhouses will each have a separate entrance with 2,088 sqft- 2,630 sqft with 5 bedrooms per unit as well as walk-out patio and second floor balcony. There will be "A" units that are set into the westward slips of the sit and have a great view of the golf course and "B" units will face the adjacent property to the north. Both A and B will have a shared drive aisle with visitor parking that will divide the two buildings.
Parking is a steady concern all over Revelstoke, not just in the downtown core, this applicant will be accommodating the mandatory 18 parking stalls as per the R3 Zoning requirements.
"Staff support the proposed OCP amendment and rezoning. The proposal is consistent with the pattern of development established to the north of the site at 151 Columbia Park Drive."