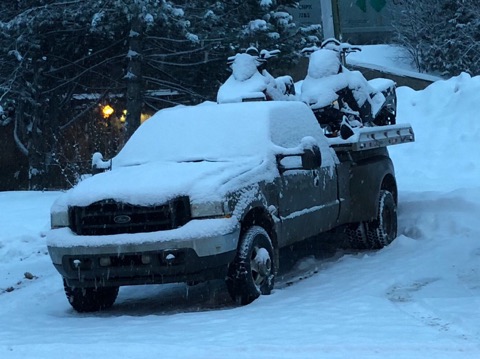 A fun weekend in Revelstoke has turned into an upsetting turn of events for two riding enthusiasts from Calahoo, Alberta.
A 2003 brown Ford F-350 with two Ski-Doo's that were attached to the back were stolen sometime between Saturday (Jan 6th) evening and Sunday (Jan7th) in the early morning hours from the Super-8 parking lot.
The owner of the vehicle and sleds, Brad Peters along with his riding partner, Craig Brochu, arrived sometime Thursday for a riding weekend and had intended on leaving first thing Sunday (today) morning.
Caitlin Prime-Peters, the wife of the stranded visitor told the Revelstoke Current, "This is really upsetting. They are stranded at the Super-8 having to take the bus home tomorrow morning…Just went for a nice sledding holiday with his friend and lost close to $40,000 worth of stuff."
If anyone has spotted the vehicle please contact Brad Peters at 780-203-2723.