By Leslie Hogg- Youth Liason (Stoke Youth Network)
Revelstoke is a world-renowned backcountry skiing mecca. Our snowy mountain town is known for its easy access into the backcountry, whether heli-skiing, cat-skiing, touring in Rogers Pass or off of Revelstoke Mountain Resort. Over the past few years, local youth have been requesting more opportunities to gain avalanche skills to be able to explore the mountains safely.
This December the Stoke Youth Network partnered with CAPOW Guiding, Avalanche
Canada and Revelstoke Mountain Resort to offer a free SHREDUCATION camp for local youth. With the Resort not yet officially open, twenty-five RSS students were able to access alpine terrain to gain hands on experience about backcountry travel and learn avalanche search techniques from local ACMG Ski Guides and Avalanche Canada Youth Ambassadors… there was also some amazing powder skiing.
YA Fund Update: The first annual Youth Access Fund Holiday fundraiser received $1200 in donations from local businesses and private contributions. These Funds go directly towards supporting youth from low and modest income families by removing financial barriers associated with sports, recreation, arts and cultural programs. In 2017 the Fund support over eighty youth and allowed them to pursue their passions and extracurriculars activities. Have any questions about the Youth Access Fund? You can email info@stokeyouthnetwork.ca for more details!
The Basin Youth Network Leadership Summit: May 4-6, Columbia Basin Trust is
hosting a Leadership Summit in Kimberley, BC. The Summit is a fast-paced, socially interactive weekend-long event. Youth from around the Basin will come together to meet new people, learn new skills and have fun! This is an amazing opportunity for local youth and we encourage those 14-18 years old to apply online at ourtrust.org/basin-youth-network-leadership-summit
Games Night and Drop-In: The Stoke Youth Network continues to work with local businesses to provide drop-in opportunities for high school students' after-school. Here are a few weekly programs RSS students can attend for free!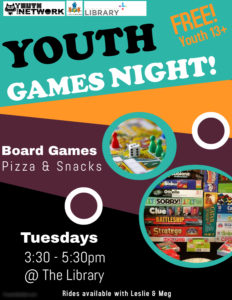 Every Tuesday night the Stoke Youth Network is hosting a Youth Games Night at the Okanagan Library. Youth 13+ are welcome to attend from 3:30-5:30pm and enjoy food, games and socializing with friends.
Wednesday – Free Yoga @ Balu. Class Starts at 4pm
Friday – Drop-in @ Transcanada Fitness
Sunday – Boxercise @ Revelution. Class starts at 11:00am