If you are getting achy arms and a sore back from shovelling, and staring uo at the grey sky wondering when spring will come, you have another thing coming- more snow.
According to The Weather Network, British Columbia is about to see the most amount of snow on earth next week. It has been relatively warm as of late, with the Revelstoke temperatures reaching 5 4- 5 degrees, however, that is expected to change for the second half of January. Expect to see an incredible amount of accumulation within the alpine over the next week with over 50cm of snow falling by next weekend.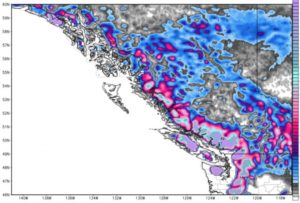 The purple coloured areas are with a probability of exceeding roughly 100cm of snow over the next week. For those that are here to play, they are in for a treat, for the rest that don't- shine up those shovels!