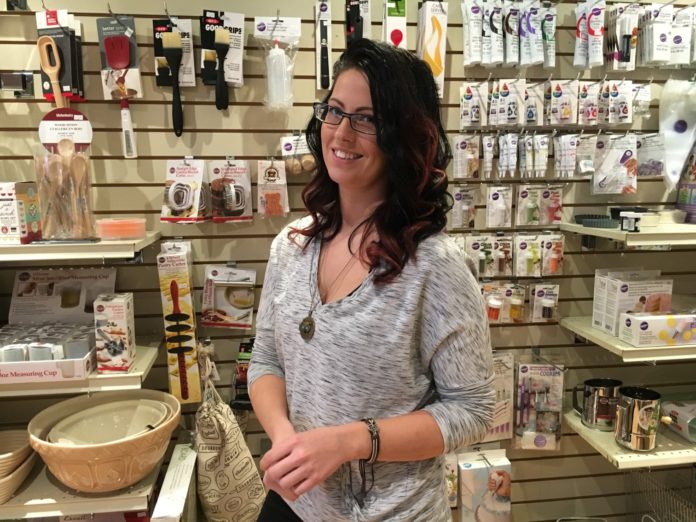 Baking with those that you love can lead you down an artistic journey you may never have thought you would go on, but that is exactly what Katherine Lee Peters did after she learned to bake with her Step-Mom.
Kat has a cute niche market cornered for those that love her cakes. Thus, she is called The Sweet Shoppe. This mother of three manages her time between her labour of love of baking cakes for friends and family and working at Big Mountain Kitchen & Linen. Like any busy Mama-Bear, her time is spread thin, but she always makes sure that if someone wants a birthday cake for their little one, she will be ready to go.
Kat's story may have begun in a small kitchen in Chetwynd with her Step-Mom but it has now made its way here to Revelstoke. When Kat was on maternity leave, with her newborn, her oldest daughter was gearing up for a colossal birthday- THE big one, the mother of all birthdays- the fifth birthday! That means, a handful of youngsters running around, pizza, chips and pop and all the excitement a five year old should have during a birthday celebration. Now, it is time for cake.
"I didn't want to buy a cake, so I decided to make a Barbie cake- it turned out awful! Or at least I thought so."
That was hardly the case. It wasn't long after, her sister was in desperate need for 34 cupcakes and a big Minion cake. After all, this is serious business when we are talking Minions. After her nephew, Connor was tickled yellow and blue with his cake, word spread fast of Kat's natural ability to design and create charming cakes. By 2010, Kat was receiving regular calls from not just friends and family but now strangers, all through word of mouth.
This was when the request came that pushed her to the creative limits she did not know she had. A surprise wedding cake was requested.
"I was panicking. I thought I was going to throw up on my feet I was so nervous, I was very hard on myself about that particular cake."
With the challenge set before her, she took it on and the outcome was superb. Next thing she knew, the word was out about her ability to bake a wedding cake-making everything from scratch.
The biggest task to date was a 5-tier; no insert fondant covered wedding cake with intricate handmade decorations. Also, bearing in mind sugar intake, she tones down the buttercream to pare with whatever cake she is making so sweetness overload is not a factor.
"This cake was extraordinary (in size). I needed a week off just to bake it. Thankfully, Trevor (English) was very good about it and gave me the time off."
At a bakery, a 5-tier wedding cake can cost a decent amount of money. Cakes do range in prices depending on what the request is; some cakes can reach up to two-thousand dollars, however, Kat is doing this as a form of art and for the love of the game.
Kat passionately expressed to the Revelstoke Current that she loves to be artistic with creative license. "I love it when they say, 'this is what I am thinking, do whatever' and I can give them a rough idea then I get to play. So far, they end up loving it."
The world of cake design is growing steadily. The demand is there and people are looking at unique ways to celebrate certain events and a lot of competition and similar ideas are already out on social media. Kat indicated that she never copies, she may find something on Pinterest and use it as an idea, but ultimately, she throws in her own Kat Flare.
When asked which cake meant the most to her, she shared the story that reminds her of why she likes to bake. Much like many young girls (and boys), Disney's Frozen was her daughters favourite movie, so a two-tier, zebra stripe Frozen theme cake it shall be.
"Just her reaction along with every other kid…their faces…they were mind-blown and for me that- and every other cake I've made- is why I do it. I am honoured to be a part of that."
 Sweet Shoppe has a Facebook page and for any inquiries you can message Kat on Facebook. https://www.facebook.com/katssweetshoppe/