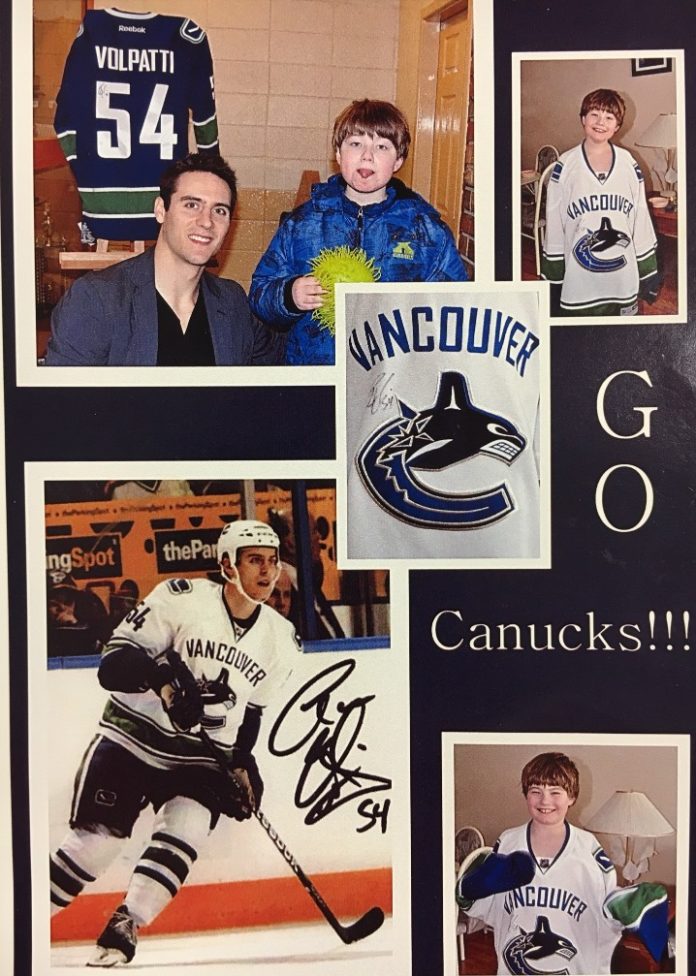 Hockey is one of Canada's favourite pastimes, and not often do the fans of the National Hockey League get a chance to skate with a star! Revelstoke's own Aaron Volpatti has been working in conjunction with the Revelstoke History of Hockey, Revelstoke Minor Hockey, and The Revelstoke Grizzlies to put on a Hockey Day Event in Revelstoke!
On Saturday, February 17th, a community day of hockey will be underway at the Revelstoke Forum. From 11:00am until 1:15 pm will be a pre-novice and novice games coached by both Aaron Volpatti and Ryan Parent followed by a Chuck-A-Puck fundraiser for the RMH.
Aaron Volpatti told the Revelstoke Current that this day was about drawing awareness and also as a "thank you".
"It was all about giving back. I know how much Revelstoke has given to me, and we wanted to give back by creating awareness for new families. I feel very fortunate to have grown up in such a great town, it gave me  a lot in terms of hockey- Minor Hockey is like any growing entity, it needs constant love and nurturing. That is what this day is all about."
Aaron Volpatti's successful career in hockey will be celebrated as his RMH jersey will be retired to the rafters prior to the Rev Midgets vs Trail Midgets game at 1:45pm.
The Revelstoke Figure Skating Club will be participating in the fun, community event with a presentation during the first and second period.
HOH President, Dennis Berarducci exclaimed "It is not just about hockey. It is about the figure skating club and anyone who wants to learn about either sport. They are both valuable and important in their own right. I am for one, proud to be a part of RMH, and am always thrilled to see the young figure skaters become stronger and more confident."
After the game, there will be a free skate and free skate rental for anyone who wants to glide with a Canuck, as Volpatti will be hitting the ice with all the kids that want the bragging rights!