During the winter months, sitting down to a hot bowl of delicious soup, the way that Grandma made, is nothing short of a true delight. It's the simple things that make life grand, and a homemade bowl of soup is sure one of them. What makes it even better? Good company.
The Revelstoke United Church has been putting on Soup and a Smile for over a decade. Since 2006, Revelstokians and visitors from all over, visit the comfortable church basement for an hour and a half every Monday.
"Everyone is a volunteer here…it's leaderless, it just sortof rambles." Bill Shuttlesworth said in regards to who volunteers and who is in charge. "We all just make it happen."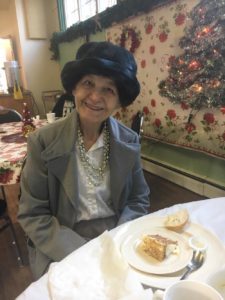 Many might think that this is a program designed to fundraise for the church; In fact, this is a true to heart outreach program.
Reverend David Cooke explained to the Revelstoke Current that " All the proceeds (of Soup and a Smile) go to sustaining itself. The church does not benefit from it financially".
Then from the corner, the colourful and charming John Teed stated "Only spiritually speaking! So if you're up for a nice bowl of soup and some nice conversation for an hour, stop in!"
The soups are all made by the volunteers, some, using their own money. Save-On-Foods comes through with donations of goodies and the bread which spread out nicely along the  Christmas themed, decorated table.
The outreach program usually runs until the end of April or early May, but there is a discussion on whether or not it could continue on through the summer months. Only time and more volunteers can determine that decision.
If you are wondering the streets enjoying the many picturesque views of Revelstoke and you feel peckish, or perhaps on a lunch break and could use a nice break from the grind, have a bowl of soup. You will feel full, warmer and maybe even a little more relaxed after a good round of socializing with some pretty amazing people.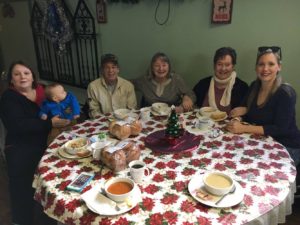 The Revelstoke United Church recently had their 80th Anniversary. The building was erected October 14th, 1937.