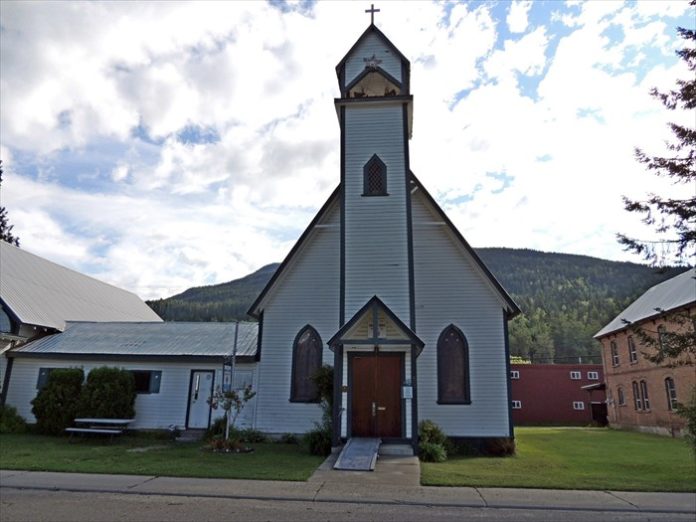 The St. Peters Anglican Church is one of the most unique buildings still standing in Revelstoke. The original Church was built in 1896; the Church Hall addition was built in 1931 by Italian contractor, Anselmo Fratolini.
The Parish Council met in November to put forward a motion to be disestablished as the parish numbers have been decreasing steadily over time. The actual dissolve is on December 31st, 2017, which will be the final service as St. Peters Anglican Church. On January 14th, the Bishop will deconsecrate the Church. 
According to the City's Official Community Plan, the Church is not a protected heritage property, nor is there a Statement of Significance, leaving the building vulnerable. That does not mean to say it won't be refurbished or reimagined to the benefit of the community.  
The Church and the house adjacent to the historic landmark are on two separate parcels of land with two separate zoning bylaws. The Church and Community Hall are zoned P1, which is designated for, assembly, cultural and recreational facilities. The second parcel of land that the brick rectory sits on is zoned P3, which is designated public or quasi-public uses of an institutional nature, cultural and recreational facilities, public service and utility buildings.
With the two properties not tied together and separate zoning for each parcel of land, a rezoning application would have to be put forward, depending on what the plans were for that land. A covenant would have to be in place which would have to be approved by city planners.
Helen Grace was a member of the parish for 90 years. She told the Revelstoke Current that sometime in the late '70s or early '80s they looked into having the building recognized as a Heritage Building.
"We wanted to have it looked at to be be declared, but according to the person that decides, there were too many changes that were made to the exterior. So it was turned down…it would be sad to see it go".
The Diocese of Kootenay confirmed with the Revelstoke Current that an offer has been made on the property, however, nothing has been agreed upon, nor has the Church property been listed.