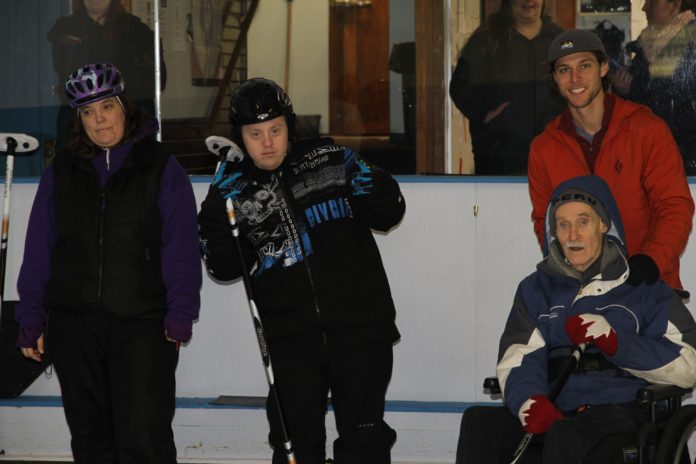 What started out as a one day event back in March, grew to become a 12-week curling program for the athletes of the Special Olympics BC- Revelstoke Chapter.
Josh and Jennifer McCann are both coaches for the local athletes and enjoy their time on the ice teaching them the value of team work and partnership. A third coach, Curtis Van Yzerloo was out on the slab with the athletes guiding them along with the rules of curling. Everyone was clearly enjoying themselves and having a fun filled afternoon on Sunday, December 17th.
This new program started on October 29th, and is running until January 22nd. These superstars are already hoping to gain access to further ice time at the curling rink as they are having a great time and want to continue until March. The Revelstoke Curling Club have been very accommodating and instrumental in the use of the ice and are very supportive of this new program.
Courtney Kaler, the Public Relations Manager for the Special Olympics BC- Revelstoke Chapter told the Revelstoke Current a rather heartfelt journey that she has ventured on.
Kaler is extremely proud of her sister, Aleesha who is an Athlete with the local faction. Aleesha has Alternating Hemiplegia of Childhood which can cause her to have daily muscle seizures. She is of the mental age of a five year old, and does struggle with some matters as any young child would. Kaler spoke of how her sister is very empathetic, that she is very aware of when her sister or her mother are sad.
"We recently lost our Papa, and it has been very hard for me and my Mother. She is aware that we are sad about it. She will say 'No more Papa, only Grandma Linda' and then she will hug us because she knows we are very upset."
The fact that Aleesha is out on the ice, participating, growing and learning is not just important to Kaler for her sisters personal growth, it was also a game that was important to their late grandfather.
"I had to show her everything from how to hold the stick, to help her balance…now, she does it all on her own. When we are done for the day she says 'again!' Which is nice to see her enjoying herself."
This is one small snippet of the deep well of emotional interest and amazing stories these families have.
The team of athletes consists of Leroy Bridge, Xander Widger-Turkington, Travis Kehler, Aleesha Kaler, Allan Clark and Terina Sessa.
What was only a one day event in the spring has become a great program for the happiness and betterment of these fine athletes. These athletes are a true pride of Revelstoke and they should be proud of their courage to try something new and continue to strive to perfect the game! With a little bit of luck, they will be able to extend their ice time from end of January until March!
They have a face book page Special Olympics BC- Revelstoke to keep up to date with these aspiring athletes!