The Royal Bank of Canada staff have been volunteering their time in exchange for money. Here is the neat thing, they are the ones donating both volunteer hours and the money!
RBC has a wonderful program called the Team RBC Grant program, in which local factions can apply for funds to help ensure that a showcase or event can happen at a local community level. To date, the RBC Grant Fund has donated to the Farwell Splash Park; CVSA; School District 19; Ronald McDonald House; Miracle on Mackenzie plus numerous others.
Local groups can apply to the Team RBC Grant program and not only get a financial donation, part of the mandate is if RBC selects a local event or charitable organization for the funds, the local staff will also donate their time to help. The grant sizes vary depending on the project. A local faction could be eligible for $1,000 donation per volunteer event, up to a maximum of $5000 per calendar year.
Some examples of what the RBC Grant Fund would like to sponsor are, financial literacy sessions; resume writing workshop with a local youth organization; taking part in a walk or run to raise funds for a local charitable organization; cook and serve meals at the local shelter or church; clean up local beaches, fields, parks and river banks and assisting a charitable organization with a special event (planning, setting up, taking down, answering phones).
The volunteer groups in this community are the bloodline in Revelstoke. Hundreds of hours are continuously donated by the amazing locals who choose to give their valuable time to serve others, and RBC recognizes that and would like give back in a big way.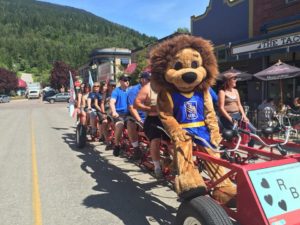 With a year round application time frame, this is a wonderful asset to have for our community. Not all volunteer events will automatically qualify for a Team RBC Grant. All requests must be submitted at least 2 weeks before the requested volunteer opportunity for internal qualify review. However, if you have an event or have a program in mind, it's certainly worth the easy steps to apply. 
For more information and to find out of your group or event qualify, contact Vanessa Ward- Market Operations Support Officer at 250-837-6933.