Developer, David Evans is hopeful that phase one of Mackenzie Village will be completed before Santa arrives. In a recent Interview with the Revelstoke Current, the well-known developer shared when the owners can hopefully begin moving in. Occupancy walks with the city should start next week; BC Hydro is on site right now setting up with the hopes that permanent power will be in place by early next week; then the final deficiency walk through can ensue. Roughly ten days post occupancy permits, the owners could very well have their Christmas dinner in their brand new condos.
Two of the buildings will be ready for living before Christmas, with the hopes of all four. The other two condo buildings should follow between Christmas and the New Year. The final building will be in the middle of January because of random holiday schedules.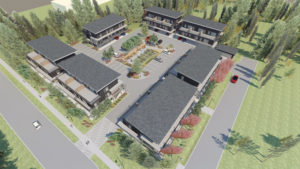 Phase two is already in the works, architects and civic engineers have been working on it since the ground broke in July for phase one. Phase two of Mackenzie Village is roughly a five year plan and Evans hopes to be breaking ground by April of next year. It will consist of two apartment buildings and one section of town houses.
When asked about how many locals are working at the Nichol Road work site, Evans was quick to state that a large majority of the construction build is by local contractors.
"Almost all…because the local crews don't have enough staff for such a massive project, some out of town contractors sub-in.  All of our supplies come from either Rona or Home Hardware; appliances are from City (Furniture), Webb's Painting, TJ Roofing,BMAC General (Contracting), Straight Up, Nu-Trend, Canyon (Electric), Battersby (Plumbing) Cameron's Drywall, to name a few. We hope to have Randy at RCU (insurance) take care of the insurance."
Horizon North built the modular multifamily containers in their Kamloops based factory; one of the only pieces of the project that was not built in Revelstoke.
Mackenzie Village is designed to be built over a ten year period with eleven or twelve phases. If the village were to come to completion based on the original plan, it would have roughly 800-1000 units and based on two people per unit, it could potentially be a village of over 2000 people.