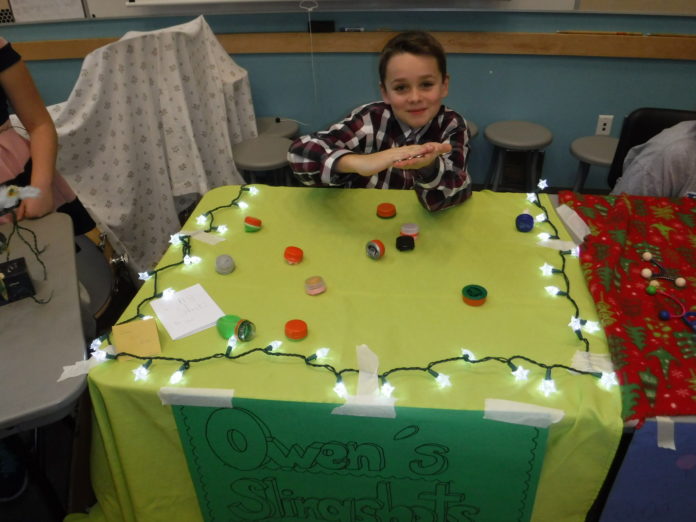 The future looks good for Connie Haworth's grade six class at Begbie View Elementary. On November 24th, Connie's class put on their Power Play Craft Fair in the hallway of their school. This fair was designed to teach these children the value of a dollar and how business works in the real world.
The Power Play Program fosters the entrepreneurial spirit in young people, and the instructor must take the necessary course to implement the challenge in their classroom. This is Connie's second year running this program, one out of market, and this round being her first in Revelstoke.
"I think they learn from real life experiences, rather than textbook work. Also, giving back is important for them to know." Connie told the Revelstoke Current.
Each student is to create an idea and bring it to market. They are in charge of everything from how to design, manufacture and finance. Community Futures participated in this program by bringing some dollars to the table.
Kids were able to take out a loan from Community Futures in the range of $5.00-$25.00. After the initial loan they were in charge of their own budget, and were expected to repay the loan as well as donate 10% of their earnings to a local charity.
Many students found varying degrees of success in this program. With the top dollar awarded to Miriam Auilsa, the Current needed to know her secret to success.
"I made slime with glue, Borax, shaving cream and lotion" Miriam said confidently. Miriam borrowed $25.00 from CF, sold all of her product bringing in a cool $144.00, after repaying her initial loan and donating the allotted amount, she walked out with roughly $110.00.
Ruby Ryga made Flippy Blocks Brain Teaser, which is a neat style of the Jacobs Ladder concept. She spent $94.00, sold the entire product line, and walked away with roughly $30.00 after repayment of her loan.
Owen Bibby made 32 slingshots with the $5.00 from CF. He grossed $64.00 and netted roughly $52.00.
Zachary Burke made Christmas Cards for his project. With a $10.00 loan from CF, He sold his cards at $2.50 apiece and made a profit of $22.00. Zachary also learned the value of using a float when selling merchandise.
"I used my own money to for the float" Zachary said with pride. "I had to be able to give change, so I used my own money that I had".
One student found a roadblock in her venture. Tiyana Muir put a great deal of time and effort into her Plushie Bird idea. She told the Current that she was disappointed that they didn't sell as well as she hoped they would.
Tiyana's story might be the most educational and heartfelt. Many of the students found success, took their idea to task and the response was fruitful. However, life does not always work out that way. Young Tiyana may have been given the best gift of all; the opportunity to stand tall and to try again, this time armed with the knowledge of what worked, and what didn't.  Success cannot be attained unless we know how to spot the downfalls of any plan we choose to put in place.  The Revelstoke Current was touched by Tiyana's courage to share her story amongst her peers.
Never give up, Tiyana. Keep the momentum and stay proud, no matter what the outcome, you were a phenomenal success.
These are just a few examples of what the students were up too in November. Every student in Connie Haworth's class participated and found success, in one form or another.
The grade six class decided to donate the allotted 10% from each entrepreneur to the Revestoke District Humane Society to the tune of $79.15. No small amount for an eleven year old.
When asked what the plan with their new found fortune, every student stated that they had full intentions to save it for the future.
Congratulations, kids! You did an excellent job!