Margaret Atwood, Virginia Woolf, Jane Austen and J.K. Rowlings all had to start somewhere. The same will goes for a bright young local who also has a few stories to tell.
 11 year old Monica Parkin could tell you exactly when she started to write. At the age of eight, Monica wrote a children's book called Neat and Tidy, which is a short story about two flies named Neat and Tidy, who are anything but. Young Monica not only wrote the story, she also took the time to illustrate it herself.
Monica was given an initial loan from the Bank of Mom and Dad, and she managed to use her funds to secure publishing for her masterpiece. She began selling them at the farmers market and soon enough, she had repaid her loan and even gained a $100 return on her investment. Not a small sack of beans for a youngster.
Neat and Tidy was entered into a short story writing contest across Canada, in which, Monica was selected as the third overall and her story was then published in a collection of stories entitled, Circus.
After her first round of success, Monica decided a second story was necessary and created her second masterpiece, The Nothing Book. A cute, tongue in cheek story about, you guessed it, nothing.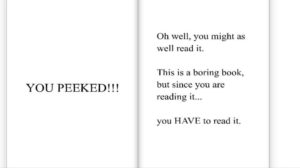 "I asked my brother, Yorke what I should write about, he said 'nothing'. So I did!" The vibrant Monica stated to the Revelstoke Current.  "The book is very is very boring, so don't read it."
The Nothing Book is a lovely take on a writer trying to get out of writing, but cannot because the reader continues to turn the page and thus, words must be written. A quirky twist of art imitating life.
Monica is now working on a third project she calls Gone Forever", a rather series plot about two girls who struggle with a strict and harsh Uncle.
Wherever this story takes her, whatever twists, and turns these young female characters have, there is no doubt they will be lifted from the page and be strong examples of the future leader of tomorrow, most certainly who Monica is destined to be.