Grins 'n' Gripes
Want to extend a little public recognition to someone you know? Need to that that Good Samaritan who helped you out when it was unlooked for but badly needed? Well, send us your your thank you (photos optional) and it will be posted the day it is received. Please send your Grins 'n' Gripes submission to drooney1@telus.net.
Donation gratefully accepted
The Revelstoke Theatre Company wishes to thank the estate of Claire Medina for her generous donation.
The Revelstoke Theatre Company
***
A big, big Little League thank you!
Revelstoke Minor Ball would like to thank the following sponsors for their donations during the 2017 season:
| | |
| --- | --- |
| BC HYDRO | REVELSTOKE MOUNTAIN RESORT |
| BIG EDDY PUB | SAVE-ON FOODS |
| CHUBBY FUNSTERS | SKYTREK ADVENTURE PARK |
| EMO'S RESTAURANT | SOUTHSIDE MARKET |
| FREE SPIRIT SPORTS | STARBUCKS REVELSTOKE |
| MCDONALDS REVELSTOKE | STAYCOOL AUTOMOTIVE |
| NAPA AUTOPARTS | THE VILLAGE IDIOT |
| PADRINO'S PIZZARIA | TIM HORTONS |
| PIP & DEX CUPCAKERY | TJ ROOFING |
| REGENT INN 112 RESTAURANT | ZALAS RESTAURANT |
As well, we thank the Columbia Basin Trust for their $5,000 donation towards designated little league field upgrades.
Your ongoing support is very much appreciated by Revelstoke's Little Leaguers!
Sincerely,
The Parents, Players & Coaches of RMB
***
June 12, 2017
***
Many thanks to David Lafrenniere and Shaun Aquiline from David Rooney!
May 5, 2017
A HUGE Radiothon thank you from Shaun & Milo
Thursday's (May 4) Have a Heart Radiothon was a great success! Over the course of the day we had numerous donations pour in from folks in our great community. We raised $14,490! This was another great success for the Health Foundation.
This year's focus was for gear to help newborns:
| | |
| --- | --- |
| LED NeoBLUE overhead light worth | $7,380.15 |
| Drager Jaundice Meter JM-105 worth | $9,075.36 |
| Two NeoBLUE Radiometers worth | $3,465 each |
| Total: | $23,385.51 |
We reached just over 60% of our overall goal. Which is phenomenal. If we look at from a per-person perspective, (based on 7,500 people) that is $1.93 per person. That is pretty darn close to the ratios in Salmon Arm.
With this year's focus on replacing this gear to help newborns with jaundice we will now be getting the overhead light.
Thank you to all the volunteers of the day from the Health Foundation, and also to the staff at RBC who, by donating their time for this cause, saw their company donate $1,000 toward the fundraiser. Thanks to the ladies I saw: Karen Ball, Veronica and Vanessa. If I missed anyone else — thank you!) 
On a separate note — to the businesses that donated the auction items:  Being someone who pounds the pavement, I know that advertising costs money, and that you are asked by many members of the media here in town to support their own air- or print media campaigns by donating items anywhere from two times a week or even more depending on the season. I appreciate those that gave auction items. It was money out of your company's pocket — so recognition is very much needed in this.
My thanks go out to:
| | |
| --- | --- |
| The Big Guy — Work'n Play Clothing | Derek Scarcelli — East End Autobody |
| Kevin & Kristie Raduenz — Rough Country | Dimpy Sanghera — City Furniture |
| Kiristin & Darcy —Legends'n Heroes | Steven Hui — Pharmasave |
| Dave & Kimm — People's Drug Mart | Kim & Laura — 1st Impressions Hair Salon |
| Dean "Nick Nolte" Jackson —Golf Club | Christy Ayles — Revelstoke Optometry |
| Chris Lee —Southside Market | John Kehler — Revelstoke Flooring |
| Dawn Rinsma — Kidz on Main | Tammie & Rick Kermack — Canyon Industrial |
| Veronika Stevenson — Skytrek | Debbie & Ralph Koerber — Apex Rafting |
| Brian Tancock — Sicamous IRLY | Steve Wilchuk — Sorrento Building |
| Daniel Kellie — Glacier House | Peter Nielsen — RMR |
| Lisa Lamoth & Ingrid Boaz — Sandman | Erik Suchov — Selkirk Tangiers |
| Rob Aquiline — IRLY Cloverdale | Wal-Mart (Yup, they donated) |
Some businesses were specifically not asked to make a donation because they donated last year and I recognize that it can be tiresome and costly. But you are on notice for next year!
I have to thank the Old Man —Dad always sends stuff up and helps facilitate auction items with the IRLY stores close to us.
For the businesses and the folks of this community that donated anonymously — thank you for your contribution to the cause. It made for another great Radiothon!
Shaun Aquiline & Milo the Community Dog
EZ Rock 101.6 FM
Revelstoke, BC
PS: Dave Raven. I will forever be playing that audio clip every year. What started as me being a smart-aleck has now become a tradition at Radiothon. So, with that being said you are forever on notice- and that long clip of your name being constantly repeated will continue to happen in all future Radiothons! Thanks for being a trooper!
***
February 22, 2017
A BIG thank-you from the Rotary Club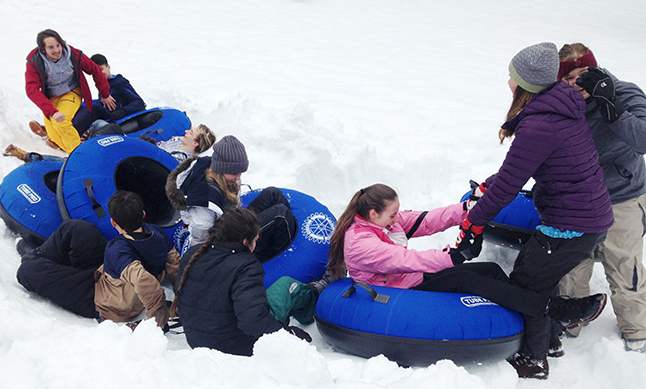 63 international youth descended on Revelstoke this past weekend for the 37th annual Rotary Weekend In The Mountains.
The youth, all part of the district's Rotary International Youth Exchange program are from all over the world as far north as Norway and as far south as Argentina and anywhere else in between.  Hosted by the Revelstoke Rotary club, the aim is fun, friendship and to prepare the Canadian and US students outbound to their host countries later on this year.
Such activities organized were tubing, BBQ with s'mors, a movie at The Roxy, curling, swimming and music – all packed into three days with a truly Canadian flavour.
It is hoped that this year's group of international students (and the 36 years prior) will promote peace and understanding throughout the world.
The weekend was made possible by the generous support of the following, which the Rotary Weekend in The Mountain's organizing committee would sincerely like to thank:
Revelstoke Rotary club members, spouses and friends;
Malcolm Bott and Rotarians for providing a meal;
The Revelstoke Seniors Centre for the use of their facilitates;
SaveOn Foods for their BBQ & s'mor donation;
Alan & Steve from REV entertainment;
Cathy & Kevin at McDonalds for subsidising breakfast and donating coffee;
Parks Canada for the use of Nels Nelson chalet and facilities;
Brett from RER for snow clearing at Mount Revelstoke;
Tim Hortons for their delicious hot chocolate and subsidized breakfast;
The Revelstoke Aquatic Centre for their staffing and patience;
The Curling Club of Revelstoke for the use of their facilities;
The Roxy Theatre for hosting a private movie;
The Sandman Hotel for providing sponsorship and subsidized accommodation;
Pharmasave for their generous donations;
The Revelstoke United Church and kitchen for providing a meal; and
Emo's Pizza.
Sincerely,
Graham Harper
Rotary WITM Chair