Some sad news from the world of community theatre; former Revelstoke Theatre Company member Karen Bradford has died in Alberta.
The Current wishes to share this notice it received from for former Theatre Company chairman Martin Ralph: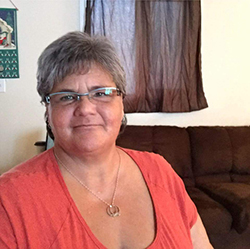 It is with sadness that I share with you that past Revelstoke Theatre Company member, Karen Bradford (Zacker – née Vaillancourt) passed away this morning, Friday June 16th, in Wainwright, Alberta, after a lengthy battle with cancer. Karen was only 48.
Karen moved from Revelstoke to Vernon several years ago with her husband Trapper Bradford, and their children Darci, Cameron and Travis. Trapper is in the Canadian armed forces so their family lived in Ontario, British Columbia and finally Alberta at CFB Wainwright. Trapper is still stationed in Wainwright and sends best wishes to everyone associated with Revelstoke Theatre Company.
Karen was involved in many Revelstoke Theatre Company productions and will be fondly remembered by our older members. She spent most of her time with the company working back stage and as a stage manager. Karen even co-directed two or three shows with me. She was a fiery spirit who knew what she wanted to see from a script and the performers. I was proud to have known and worked with Karen, and to call her my friend.
God bless you, Karen. We will miss you!
Martin Ralph