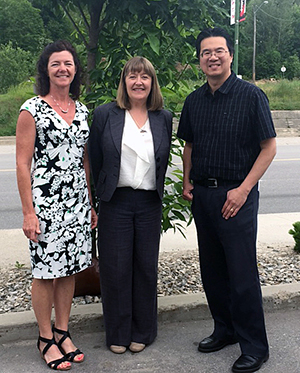 Health care assistants are in high demand across BC and the Revelstoke District Health Foundation is supporting the education of students in its own community who choose to pursue this path to a career in health care.
Earlier this year, the BC Ministry of Advanced Education (AVED) announced $64,000 in one-time funding for Okanagan College to support 12 additional full-time equivalent (FTE) seats in the Health Care Assistant program scheduled to start in August at the Revelstoke campus.
Now, each student in the program is eligible for a $1,000 bursary toward their certificate, thanks to the Foundation.
"This is a collaborative effort with Okanagan College to fulfill a need for HCA workers," Steven Hui, chairman of the Revelstoke District Health Foundation, said in a statement. "We regularly provide funding for scholarships and bursaries to support education in healthcare, and this is also an opportunity to do that in our community."
The Foundation is providing up to $12,000 in bursaries for students if they meet certain criteria. Potential students apply through the Foundation, and must be a resident of Revelstoke or the Columbia Shuswap Regional District, provide a budget, cover letter, and photo by Friday, August 4.
If awarded a bursary, $750 will be paid directly to the College to offset course fees, with the remaining $250 paid to the student upon completion of the course.
"Bringing this program to Revelstoke will help us ensure we have skilled staff available to support our clients and residents at a time when we know the population is aging and demands for health care services are increasing," Julie Lowes, Acute Health Services and Site Manager for Queen Victoria Hospital, said in the statement.
"Having the course provided locally eliminates the need for students to travel out of town, which is a huge financial assistance to prospective students as it removes the need for costly alternative living arrangements and travels costs. Together with the Revelstoke District Health Foundation's support of scholarships, this has proven to be a successful strategy as we experienced in the 2013-14 course. It is the partnership of Okanagan College, Interior Health, and the Revelstoke District Health Foundation that has made this program so successful – a great community team approach."
The 25-week program prepares students to provide care that promotes and maintains the physical, emotional, cognitive, and social well-being of clients. It combines theory classes and an eight-week clinical practicum that allows students to gain the skills and training they need to serve their communities, including Revelstoke.
"Striking the right blend of classroom learning and practical experience is critical," Yvonne Moritz, Dean of Science, Technology and Health at Okanagan College, said in the statement. "Pursuing training as an HCA is an excellent career path, and the College is pleased to bring the program back to Revelstoke."