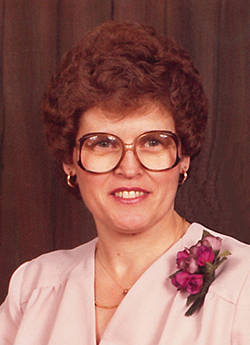 Maria Claire Medina passed away peacefully at Mt Cartier Court in Revelstoke, BC, on May 23rd, 2017, at the age of 80 years. A service will be held at St. Francis of Assisi Catholic Church in Revelstoke on Thursday, June 8th, at 11 am with a tea following.
Claire was born in the Azores, Portuga, on the island of Flores on July 14, 1936. She immigrated to Canada with her family in April of 1960, moved to Revelstoke a year later and has lived there since. Claire was a talented seamstress, and took great pride in creating lovely, professionally made clothing for many. She was also a very active member of her church, volunteering in the organizational aspects of the church and at times even sewing vestments for the priests to wear during service She enjoyed travelling with her husband Jose each summer to visit relatives in the various corners of Canada and the USA and taking the long trip home to see family in Portugal several times over the years. She loved baking and being in the kitchen. One of her favourite pastimes was having a cup of coffee and visiting with friends at the local coffee shop.
Claire was predeceased by her husband Jose and two of her siblings. She is survived by her daughter Maria Medina (Michael Clarke) of Revelstoke, BC; granddaughter Jenna Leigh Medina-Bergvall of Dallas, Texas, and her brother Ismael de Lima of San Miguel, Azores, Portugal.
The family would like to acknowledge their heartfelt gratitude to Dr. Cam Macleod for looking after Claire over the years with kindness and respect. And a sincere thank you to the staff of Mt Cartier Court for making Claire's last few months as pleasant and as comfortable as possible with such compassion and kindness. Thank you.
Messages of sympathy may be sent to Claire's family by viewing her obituary at: www.brandonbowersfuneralhome.com.
Cremation arrangements are in the care of Brandon Bowers Funeral Home, Revelstoke.